​There are several key takeaways from our Defence Industry Insights – Seventh Edition.
We are entering a phase of strong hiring activity – over 3,000 new positions will be created in the next 12 months; all skill sets are in demand.

Salary growth has slowed to just 0.6%.

Workforce mobility continues to slow.

Employer Value Proposition (EVP) is front and centre in the minds of employers as attraction and retention of candidates is the top priority in a competitive landscape for suitably qualified talent.
In this blog we explore the fundamentals of EVP in defence industry, analyse the range of benefits on offer and evaluate their importance to current or prospective employees.
What drives job satisfaction across the defence industry workforce?
Our annual workforce survey has consistently recorded interesting work and remuneration to be among the top three factors that influence job satisfaction in the defence industry workforce. But, with the confluence of strong demand for workers with defence skills and experience, and employers' constrained ability to increase salaries, defence organisations are having to look at other offerings to create effective workforce attraction and retention strategies.
We asked our survey respondents, "What has the biggest impact on your job satisfaction?" (Select your top 5)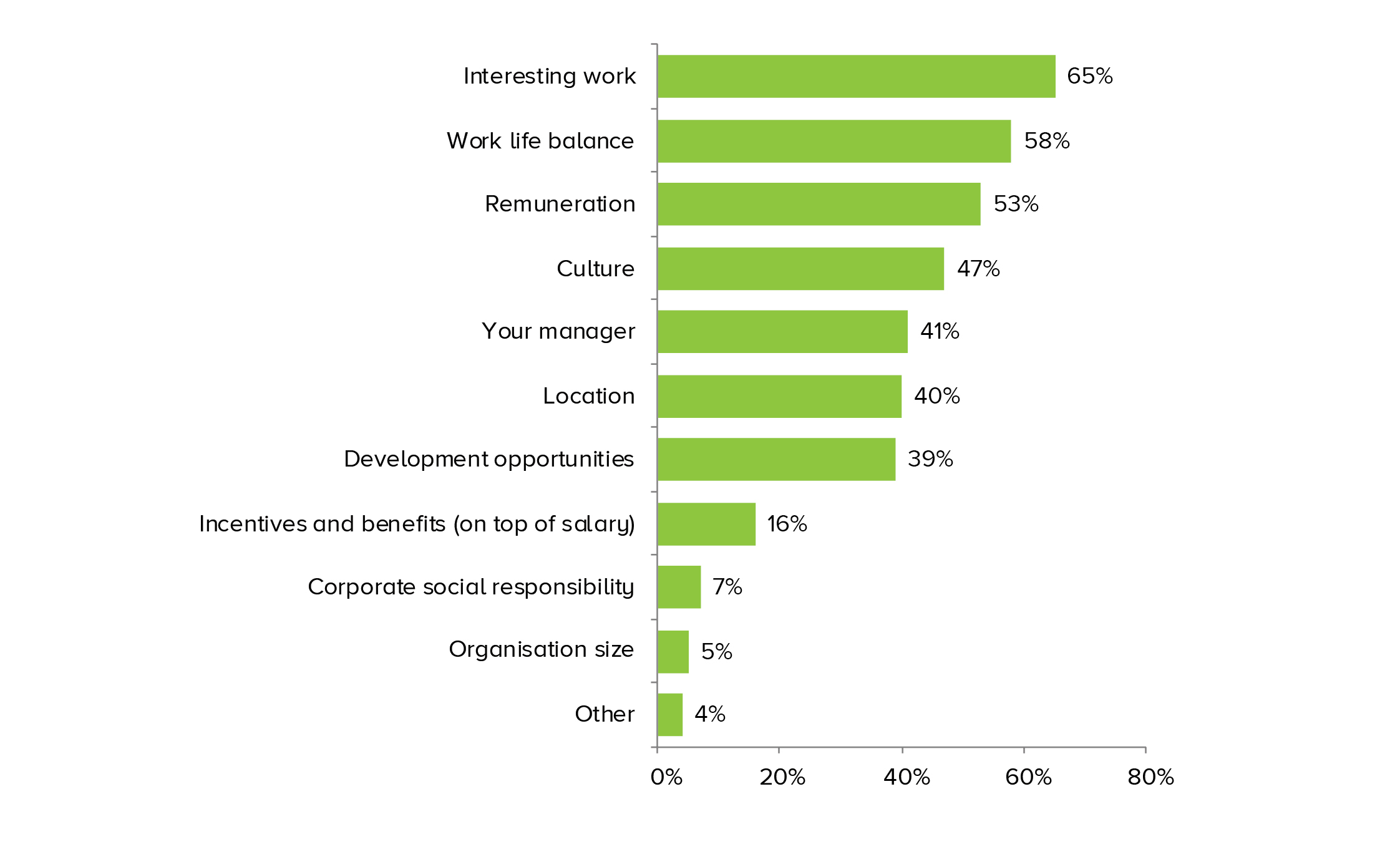 This graph shows that there are factors other than remuneration and interesting work that strongly impact an employee's job satisfaction. Other contributing factors include work life balance, culture, development opportunities and incentives. Work life balance encompasses benefits like flexible work arrangements including regular time in lieu, condensed work hours or remote working, as well as additional annual, sick or maternity and paternity leave. Culture refers to inclusivity and diversity, trust, internal politics and teamwork. Where an organisation cannot vary their offering of remuneration or type of work, they should consider developing an EVP that addresses some or all of these factors in order to attract and retain the best talent.
As part of our workforce survey we also collected data on the kinds of benefits, aside from traditional remuneration and superannuation, our respondents currently receive. We will now review those and evaluate the impact on a candidate's desire to change roles.
What benefits do the defence industry workforce currently receive?
The graph below captures the types of additional benefits, if any, our respondents currently receive. ​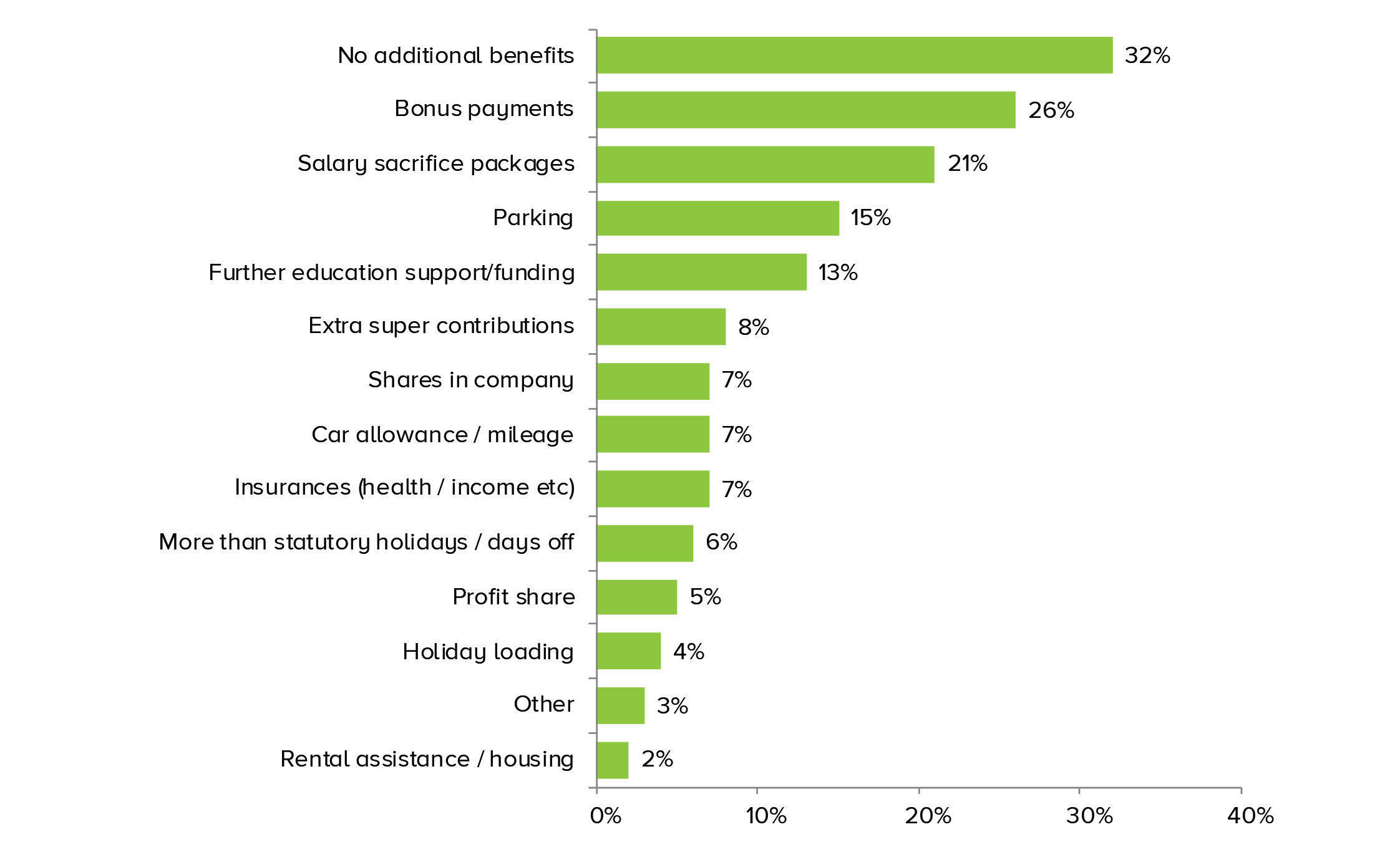 Almost a third of those surveyed receive no additional benefits at all. Among the 3% that selected 'Other' were benefits including a nine-day fortnight, mobile phone payments, travel reimbursement, gym /golf membership and income protection insurance.
But does this really make a difference to job satisfaction?
As part of our survey, we asked our respondents if they were considering a change in employment in the near future. We have dissected the answers of those that answered yes (39% of respondents) with those that answered no (61%) to understand if access to additional benefits contributes to employee mobility – the likelihood of looking for work.
Broadly, the answers correlated with the group as a whole; both those looking and those not looking for work received the various benefits at roughly the same rate.
There is one significant anomaly however, and that is within the respondents who receive no additional benefits. There is a strong correlation between receiving some form of additional benefit and employment mobility. Those who receive no additional benefits are much more likely to look for work in the next 12 months. Within the data there is no indication which specific benefit makes the workforce least likely to look for work, but offering something in addition to standard remuneration and superannuation has a statistically significant impact on reducing employee mobility.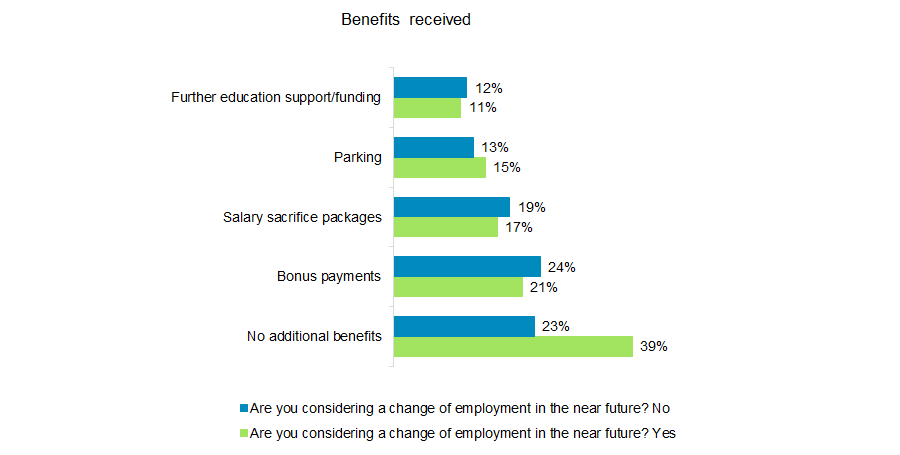 So what does this tell us?
Appropriate remuneration and access to interesting work are key factors when it comes to the general satisfaction of the defence industry workforce. But they are not the only factors impacting candidate attraction and employee retention.
To keep your workforce satisfied and to attract the highest calibre and necessary volume of new candidates, it's evident that you must include some additional appealing benefits in your EVP. In the current market, you will set yourself behind the pack by offering only standard renumeration and superannuation. What your organisation decides to offer its workforce is dependent on a range of contributing factors unique to each organisation. Having benefits as part of your EVP requires careful consideration to ensure that the additional offering has significant appeal within manageable workforce budget constraints. It is important for all organisations to define an EVP that includes access to some additional benefits and to communicate this clearly to both current employees and the talent community at large.
To find out more about what matters most to the defence industry workforce or to discuss options for your EVP, talk to the team at Kinexus today.

​
Photo by Leonard Beck on Unsplash