​
Contract work is increasingly prevalent in the defence industry. With an increase in available work, combined with worker shortages, now could be the right time for you to look at contract work.
We all know contracting tends to pay a bit more than an equivalent permanent role, but there are other benefits and considerations too.
FLEXIBLE WORK ARRANGEMENTS
Contracting provides opportunities to be flexible with your working arrangements. Whether it be days worked each week, hours or location. You can also organise a break between contracts, which is an excellent opportunity to recharge, enjoy some time with your family, undertake hobbies and look for your next role.
Remember though, flexibility in working arrangements means you will need to be flexible too. An available contract might mean a longer commute, but if it opens a door onto a project you are interested in, it could still be worth considering. Good contract opportunities come in all shapes and sizes, so think outside the box.
VARIETY OF PROJECTS AND COMPANIES
Contractors get the opportunity to work on various projects with different companies. In the defence industry, employers love to see a variety of experience on resumes. Along with experience on varying projects, possessing diverse skills will make you more likely to find future contract work. If you can forge your way as an 'expert in your field' that's brilliant, but you are more likely to be in constant work if you can be engaged in more than one way.
Contract roles can also act as a great foot in the door to new industries or companies and provide excellent networking opportunities. A good reputation is vitally important in our close-knit industry. A contract role is also a great way to test out a role or organisation before you commit to it on a permanent basis if that is what you would prefer.
THE DOLLARS
In a contract role, there is generally the capacity to earn more. The hourly and daily rates are weighted to allow for the risks associated with the lack of job security. Some contractors in the defence industry find it extremely lucrative. Generally, longer contracts that carry more job security don't pay the biggest bucks, so flexibility is key.
Trying to figure out what makes up a contractor rate? Here's a handy infographic that explains all: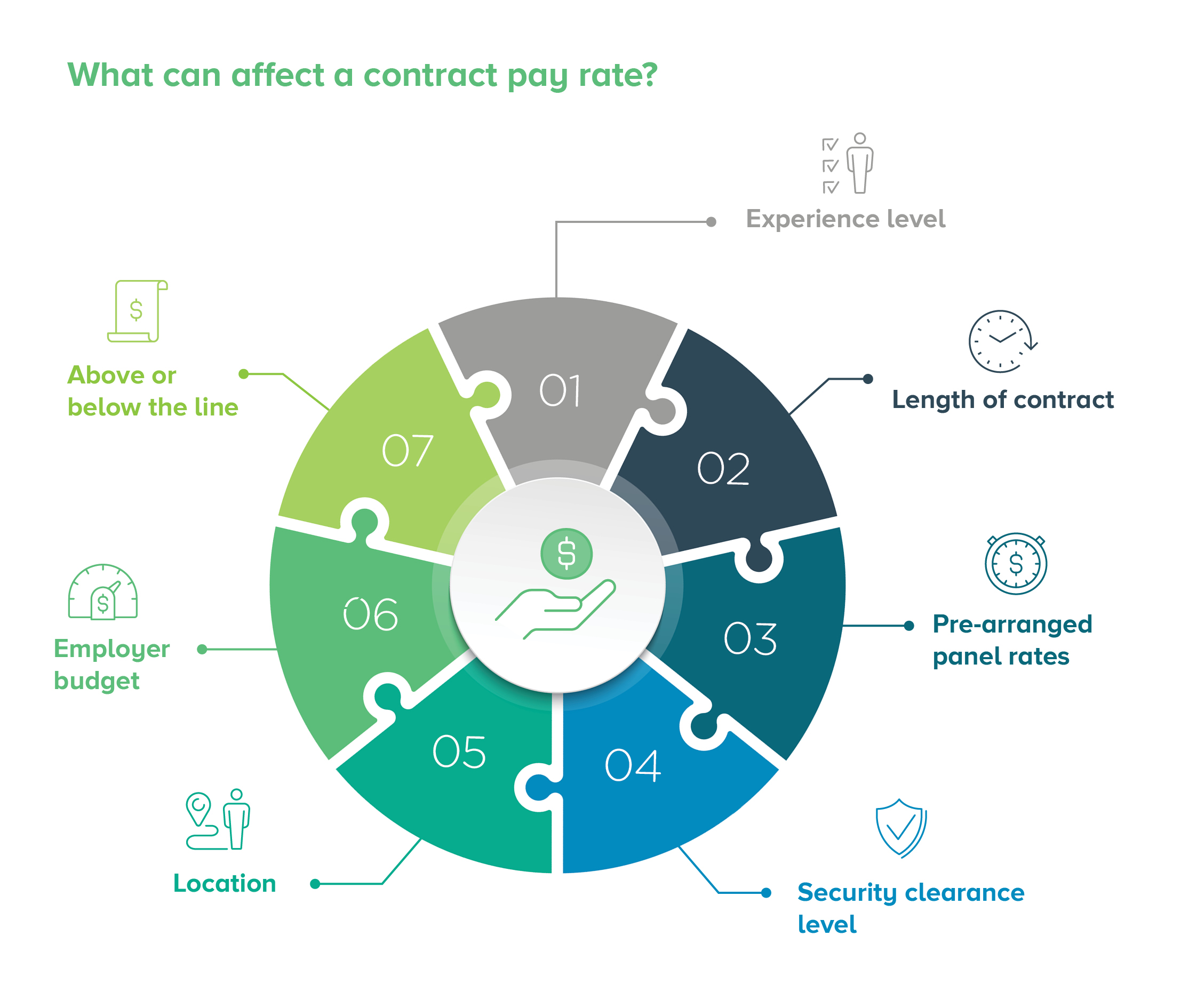 HOW TO BE A SUCCESSFUL CONTRACTOR
Contracting is a brilliant way of opening doors, gaining experience and earning a little bit of extra cash along the way.
You can be a career contractor, moving from contract to contract or dip your toe in the water in between permanent positions.
If you're thinking of jumping into contract work for a little or long while, remember these three traits of a successful contractor:
Be flexible, with location, money and expectations.

Know your market. What skills are most marketable? Who is hiring, and what are the going rates?

Put yourself out there. Network, use LinkedIn to your advantage, check job boards like SEEK, keep your resume up to date and engage agencies like us at Kinexus to keep a look out for your next contract opportunity.
Deciding when or whether to make a move to contracting is a very personal decision. Contracting work can be very rewarding and offer great opportunities, especially in the current Defence climate.
For more information on current rates and trends, check out our contractor rate card. Download it for free here.
** This blog has been updated in 2023 to reflect more recent defence industry trends.

Photo by Brett Jordan on Unsplash