With the amount of Defence projects coming downrange, it is crucial to understand what the candidate market looks like for you to best prepare your hiring strategy. We dissect the Electrical Engineer workforce using LinkedIn and ABS data to see the current (get it?) status of the talent pool.
There are approximately 7500 people who identify as currently (strike two) working as an Electrical Engineer on LinkedIn in Australia. The below graph dissects the workforce by state.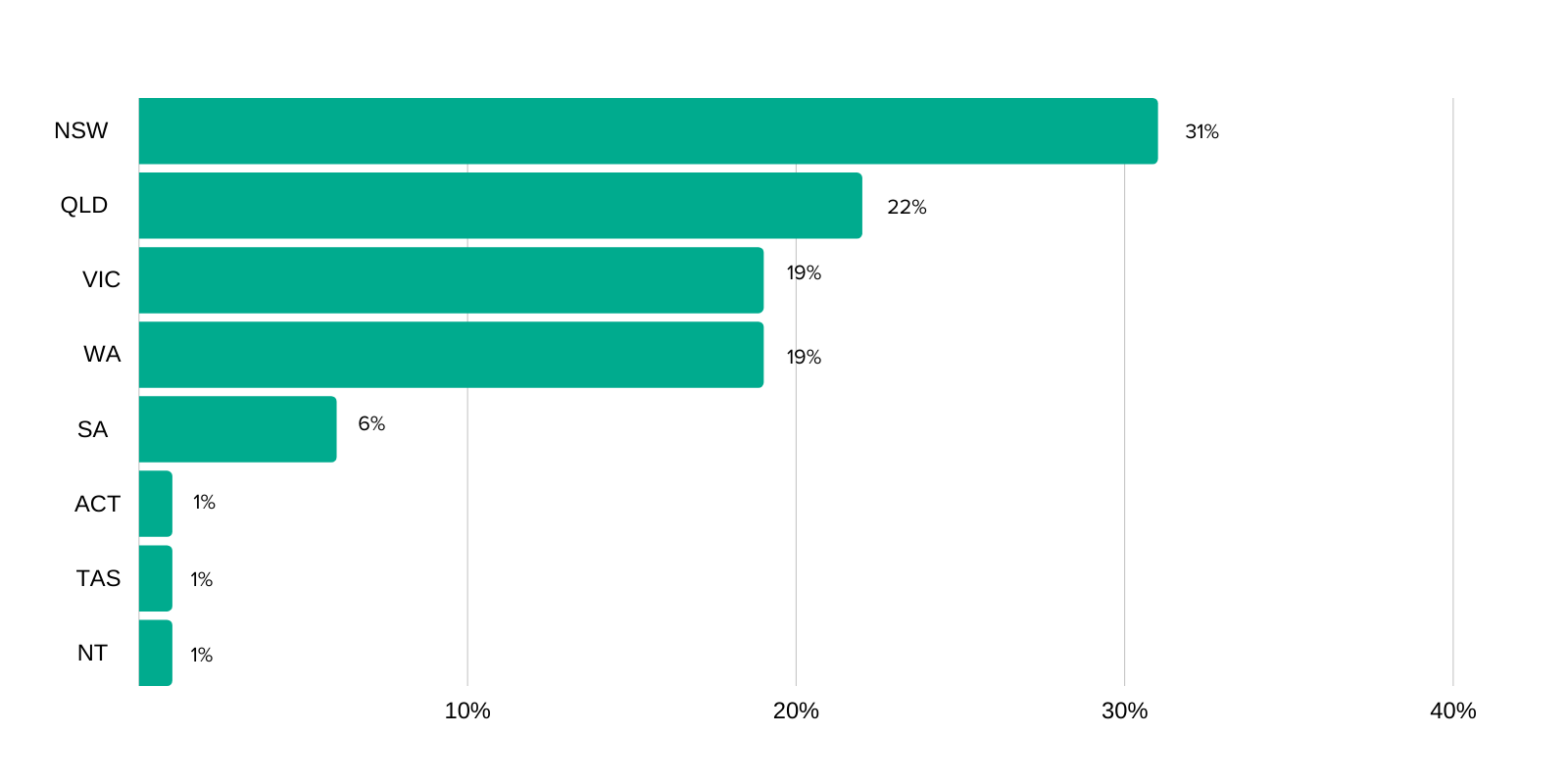 NSW holds the highest proportion of the nation's electrical engineers. 12% of these are female, and the most popular industry is Electrical and Electronic manufacturing, followed by Civil Engineering. Over the past twelve months, we can see the NSW Construction industry is losing electrical engineers, and the Civil Engineering, IT and Defence industry increasing.
Nationally, 13% of the electrical engineering workforce is female. Each state has a female percentage at around 10-14%. Ironically, both the Mining and the Renewables and Environment industry have experienced an increase in electrical engineers over the past 12 months, at approximately 5% and 11% respectively. Construction has experienced a decrease of 6%.
Notably, in WA, a third of the electrical engineers work in the Mining or Oil and Energy industries. In South Australia, Defence and Space is the fourth most populous industry for electrical engineers – the highest out of all the states.
Aurecon, GHD and Worley are some of the top employers of Australia's electrical engineers. in South Australia, GHD increased their electrical engineers employ by more than 60% in the last 12 months. In Defence Industry, Jacobs, KBR and BAE are some of the top employers of electrical engineers across Australia.
Over half of the electrical engineers in Australia have more than 10 years' experience, as shown in the graph below. South Australia displays a higher percentage of experienced engineers, and a lower portion of young graduates compared to the rest of the states.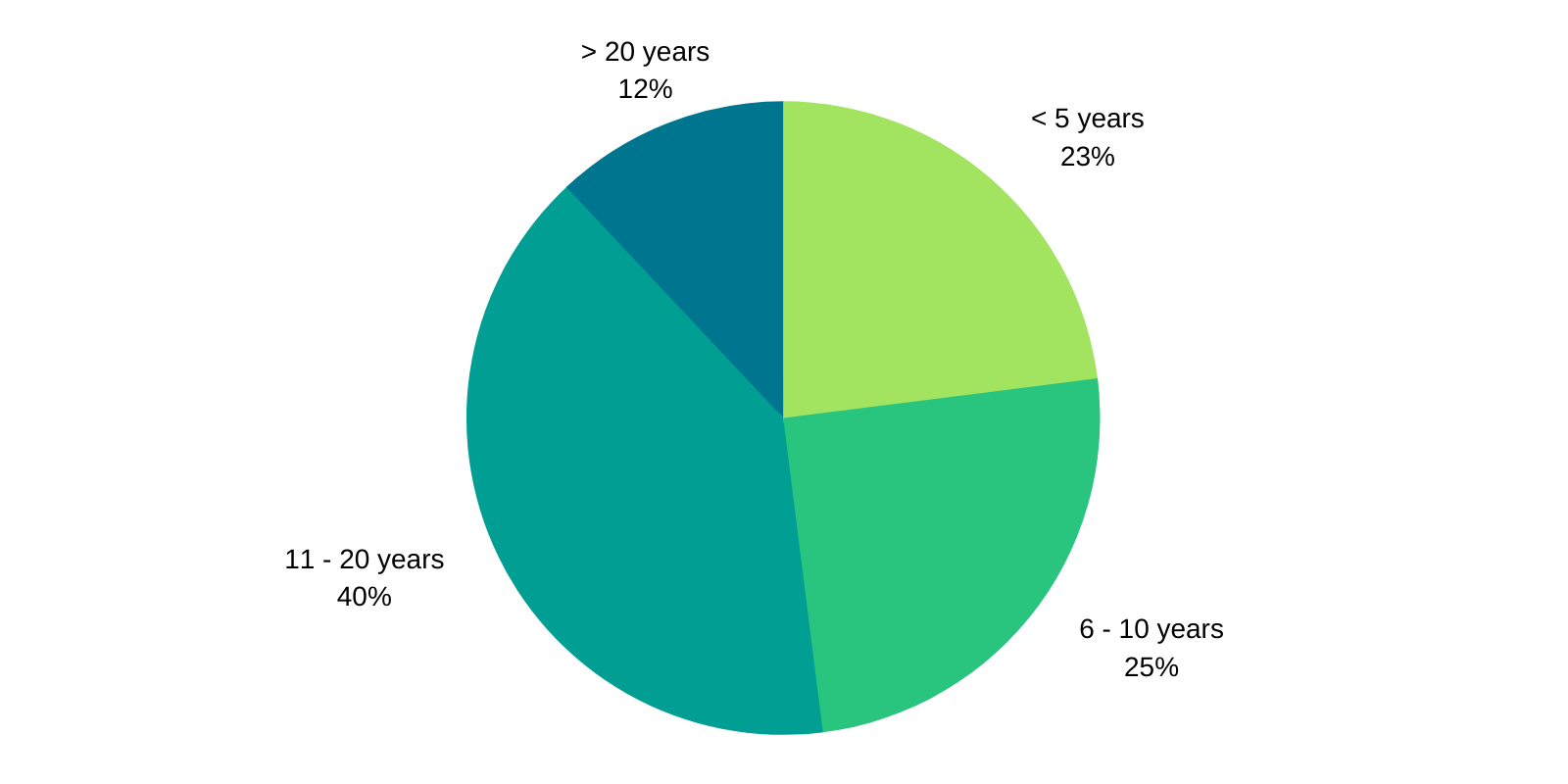 In our recent salary survey, more than 90% of electrical engineers in Defence Industry were employed. 50% were working from home with the new COVID-19 restrictions, and overall had a cautious outlook on changing jobs in the current (oh baby, a triple) environment, though felt secure about their existing role.
What does this mean for Defence Industry?
All of the top industries could be considered highly relevant, or adjacent, to Defence Industry – suggesting a viable talent pool for Defence. The limited market does suggest there is a need to look sideways to find the people you need. Furthermore, approximately 10% have worked on a Defence project or in the ADF previously.
In terms of availability of a security clearance, 83% of the national electrical engineering workforce are Australian citizens. Approximately 10% of the national electrical engineering workforce list their country of birth in an ITAR restricted country.
For more information or to enquire into our workforce mapping service, contact us.
Sources:
Australian Bureau of Statistics. (2016 a). 2016 Census of Population and Housing – Internal Migration
LinkedIn. (2020, June). www.linkedin.com. Retrieved from www.linkedin.com.
Kinexus Annual Defence Industry Insights Salary Survey. (May 2020).
Photo by John Barkiple on Unsplash