With the number of Defence projects coming downrange, it is crucial to understand what the candidate market looks like for you to best prepare your hiring strategy. We dissect the security-cleared ICT workforce using LinkedIn data to see the current status of the talent pool.
There are approximately 2200 people who identify on their LinkedIn profile as working in an ICT role with a security clearance in Australia.
The top three industries where this sector finds employment are Information Technology and Services, Financial Services and Telecommunications. The proportion of ICT workers within the Airlines and Aviation industry has sharply decreased in the past 12 months, while the Defence and Space industry has experienced an increase of 8%. Nationally, 24% of the ICT workforce is female.
The below graph dissects the workforce by state.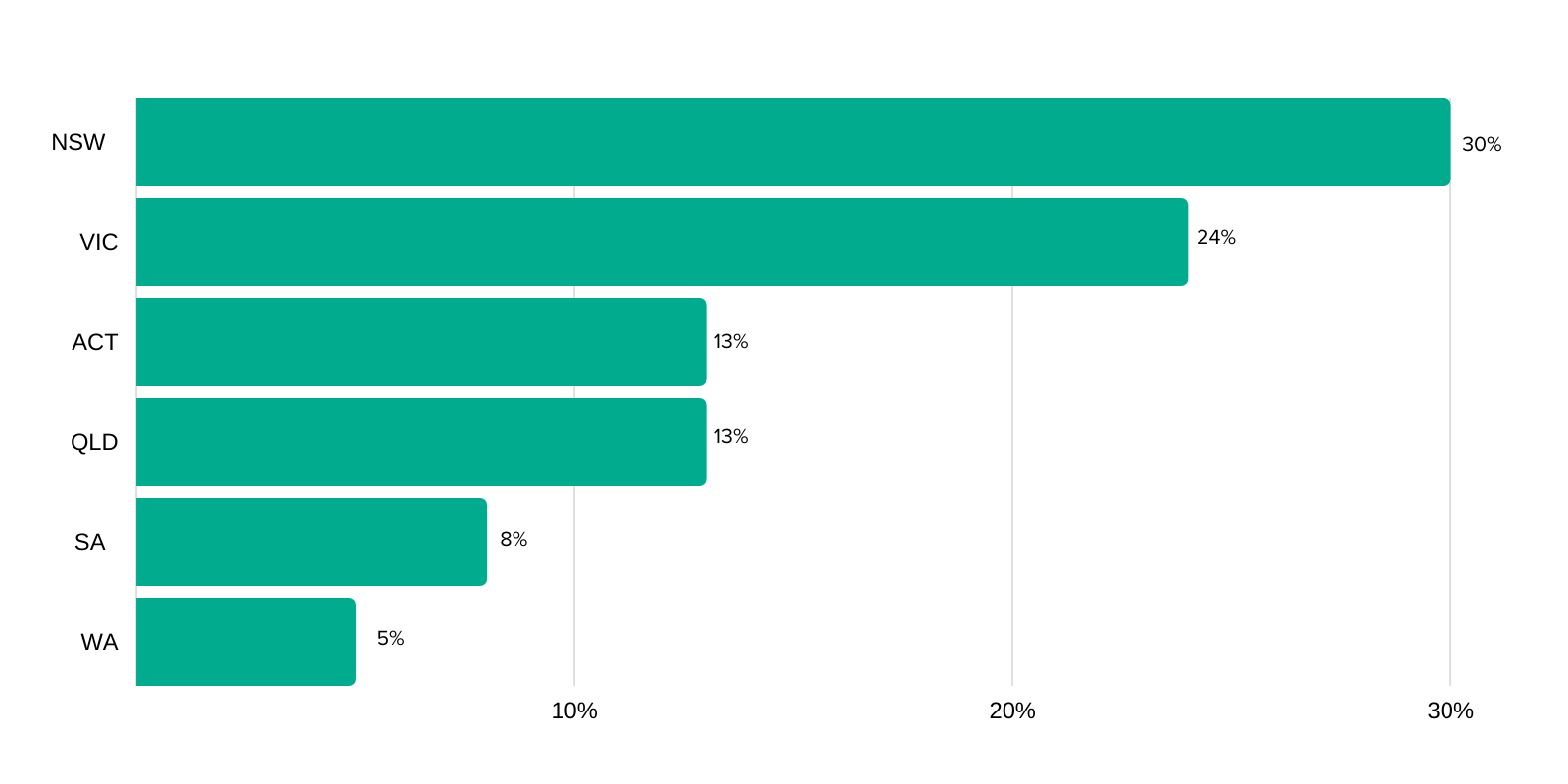 Across all industries, NSW holds the highest proportion of ICT workers, but most defence ICT work is focused in the ACT. 20% of the Canberra based ICT talent pool is female, and the most prevalent industry is Information Technology and Services, followed by Government Administration. The Defence and Space industry comes in fourth on this list; it has grown by 11% over the last 12 months. The Renewables and Environment and utility industries have experienced a 20% and a 14% decrease respectively across ACT based ICT candidates in the last 12 months.
Leidos, Department of Defence (DoD) and Telstra are some of the top employers of Canberra's security-cleared workers. DoD increased their security-cleared ICT employ by 8% in the last year.
Approximately two-thirds of the researched talent pool in ACT has more than 10 years' experience.
In our recent salary survey, 90% of the ACT security cleared ICT workforce were employed. 53% were in a permanent role, and 37% in contract. 59% are working from home due to COVID-19, and as a skill set were less concerned about the impact of COVID-19 on their jobs than workers with different skill sets.
What does this mean for Defence Industry?
The low numbers of ICT skilled candidates indicate a very limited market; defence industry may need to look to adjacent industries to find suitable candidates. However, security cleared candidates with ICT skills are available across all the industries mentioned above, and approximately 25% have worked on a Defence project or in the ADF previously. These may prove to be a viable talent pool for defence industry.
For more information or to enquire into our workforce mapping service, contact us.
Sources:
LinkedIn. (2020, July). www.linkedin.com. Retrieved from www.linkedin.com.
Kinexus Annual Defence Industry Insights Salary Survey. (May 2020).
Photo by Luca Bravo on Unsplash