With the amount of defence projects coming downrange, it is crucial to understand what the candidate market looks like for you to best prepare your hiring strategy. We dissect the aeronautical/aerospace engineering workforce using LinkedIn and ABS data to understand the status of the talent pool.
There are approximately 1100 people who identify as currently working as an aerospace or aeronautical engineer on LinkedIn in Australia. In 2016, the ABS reported 1200 people working as an aeronautical engineer. The below graph dissects the workforce by state.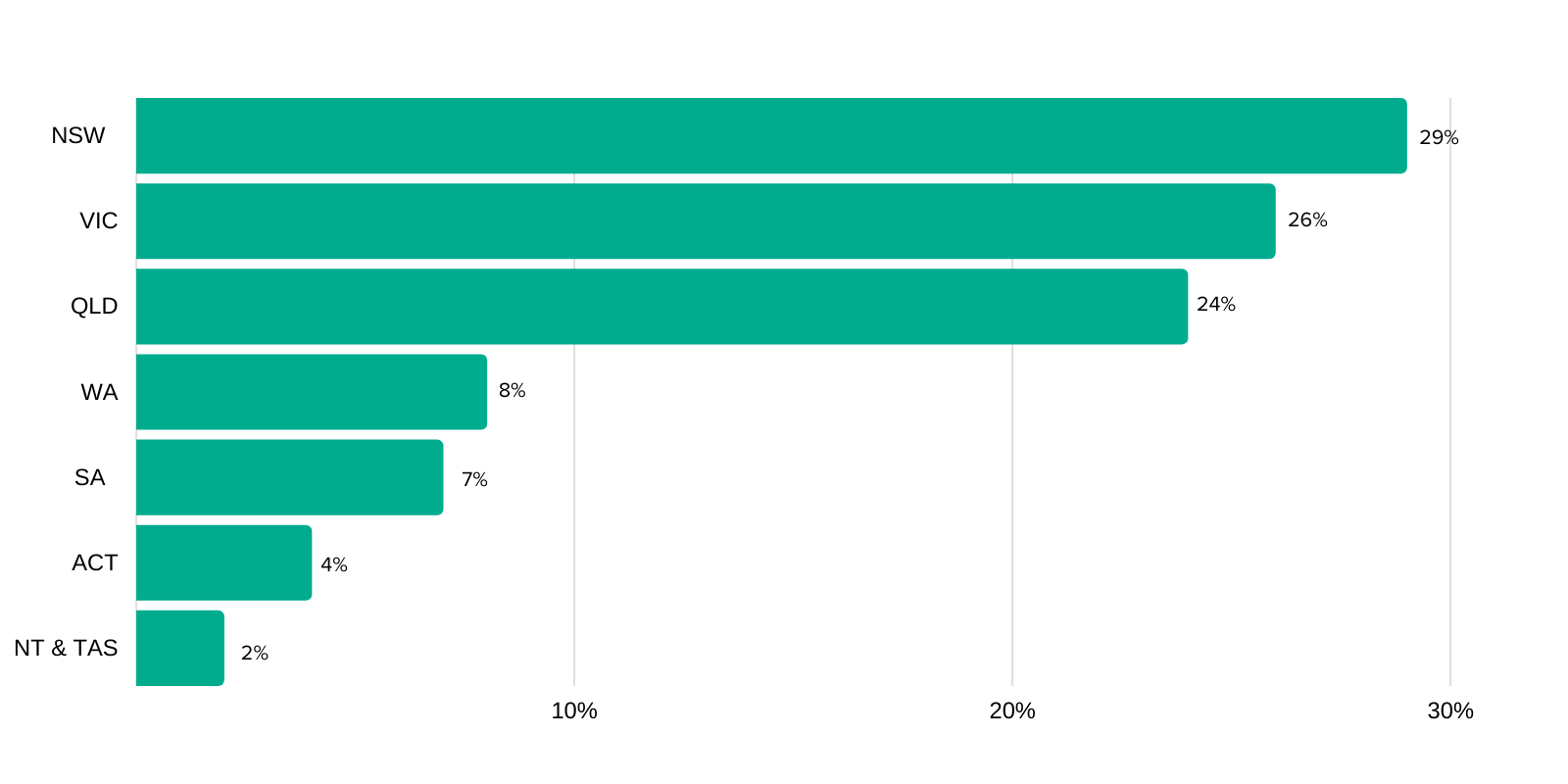 As we can see from the graph, 79% of all aerospace engineering talent on LinkedIn is located in either NSW, VIC or QLD; there are only 260 aerospace engineers in Australia located outside of those states. VIC has the highest proportion of female aerospace engineers; 11% of the workforce in this location are women. This is in comparison to 6% in NSW and 5% in QLD, both coming in below the national average of 8%. Demand for this skill in each of these states is high.
The percentage of the workforce that is employed in the defence and space and military industries is uniform across NSW, VIC and QLD at approximately 20%, although QLD is often considered the centre of defence industry aerospace activity.
"Brisbane is the hub of defence industry aerospace engineering," says Mark Henneberry, Kinexus' Land and Aerospace Sector Lead. "The core skill sets in demand are design and integration, especially for workers with between five and 10 years' experience."
Returning to look at this talent pool nationally, we can see that 92% of all aerospace engineers in Australia are employed in the following four industries: airline/aviation, aviation and aerospace, military (enlisted) and defence and space (industry). Over 70% are employed in the airline/aviation and aviation and aerospace industries, where top employers include Qantas, Virgin, Boeing, and Cobham Aviation Services.
From LinkedIn data we can see that over the last 12 months the commercial airline industry has experienced a decrease in aerospace engineers nationally, while the defence industry has experienced an increase of 7%. There are sharp spikes in workers leaving companies such as Qantas and Virgin from April to June 2020, whereas organisations such as Boeing did not experience the same spike. From this data and anecdotally, we can deduce that COVID-19 has adversely impacted airline operators and carriers, whereas organisations that engage in engineering design or maintenance (whether it is commercial or military) have been somewhat more immune to the same impact.
Over half of the aerospace engineers in Australia have more than 10 years' experience, as shown in the graph below. South Australia displays a higher percentage of experienced engineers, and a lower portion of young graduates compared to the rest of the states.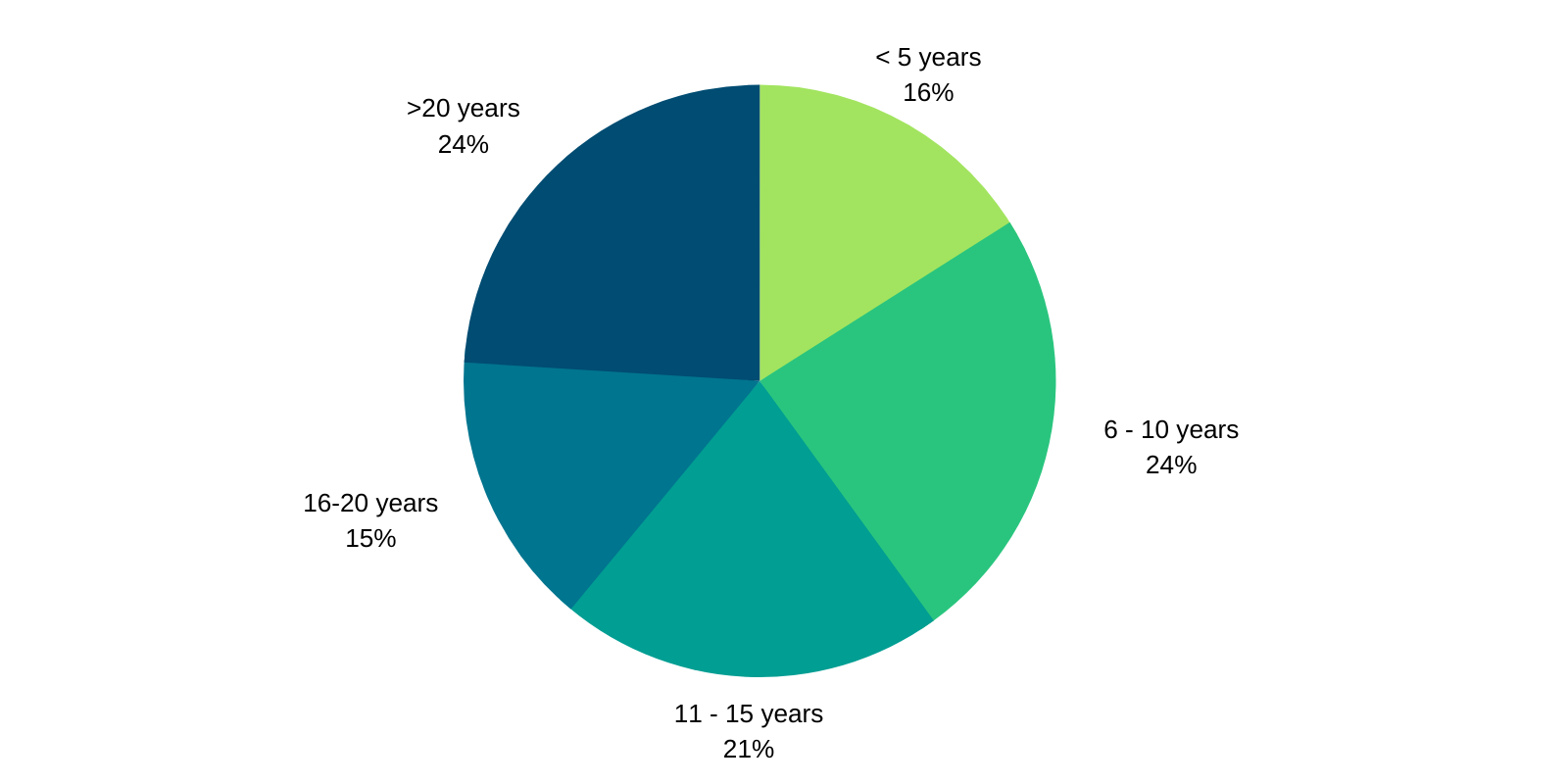 In our recent salary and workforce survey, all aerospace engineer respondents in defence industry were employed in a permanent role. 50% were working from home due to COVID-19 restrictions, and overall had a cautious outlook on changing jobs in the current environment, though most felt secure about their existing role.
What does this mean for defence industry?
Approximately 20% of aerospace engineers on LinkedIn are employed in defence and space or military industries, and this correlates with roughly 20% having experience on a defence project or in ADF previously. The companies that employ the most aerospace engineers are BAE, Boeing and Northrop Grumman. As the demand within aviation operators and carriers decreases, defence organisations may find these industries to be a good source of talent. However, with only roughly 20% of the workforce either engaged or experienced in defence, employers will need to have realistic expectations regarding transferable skills.
For more information or to enquire into our workforce mapping service, contact us.
Photo by ThisisEngineering RAEng on Unsplash