​Key points:
There's an increasing focus on employee value proposition (EVP) within the defence industry

EVP is an important factor in employee satisfaction

There are differing EVP priorities during attraction and retention phases
Securing top defence industry talent is getting increasingly more challenging. The convergence of multiple acquisition and sustainment projects, the COVID-19 pandemic and the growth of adjacent industries, have produced a skill shortage that is at near-critical levels.
In this environment, and without key differentiators, defence industry employers have found the attraction and retention of suitably-skilled workers increasingly challenging. Forward-thinking organisations have begun creating attractive and robust EVP offerings as a method to both attract and retain the workers that they need.
EVP and talent
So what are defence companies across the industry currently doing to attract top talent in this competitive market place?
The latest edition of our Defence Industry Insights (ninth edition available to download here) shows that salaries increased at a rate of 2.2% in the 12 months to June 2022. This is a notable increase from the 1.3% increase recorded in the same survey in 2021 and the 0.6% increase in 2020.
However, salaries can't keep increasing forever and alternative offerings will need to be tabled in order to fill the 3,700 roles that will be created in defence industry in 2022/23, as shown in the 2022 Hiring Intentions and Workforce Report. Having a strong employer brand and EVP is vital in attracting and retaining the right talent for your business.
To understand the difference between EVP and employer brand, check out this blog.
How to create an EVP
Understanding what benefits defence industry employers are offering in addition to salary and statutory superannuation is an important place to start when creating a robust EVP.
The proportion of people receiving benefits has remained steady since 2019 at between 60 and 65% of the population.
Further education has steadily risen since 2019 when 2% of respondents said they received this. In 2022, 17% of respondents do. In 2022 further education has broken into the top three types of additional benefits received, along with work life balance and remuneration.
Parking now sits fourth with 16% of respondents saying they receive this benefit.
In the graph below we can see the types of additional benefits, if any, our workforce survey respondents currently receive.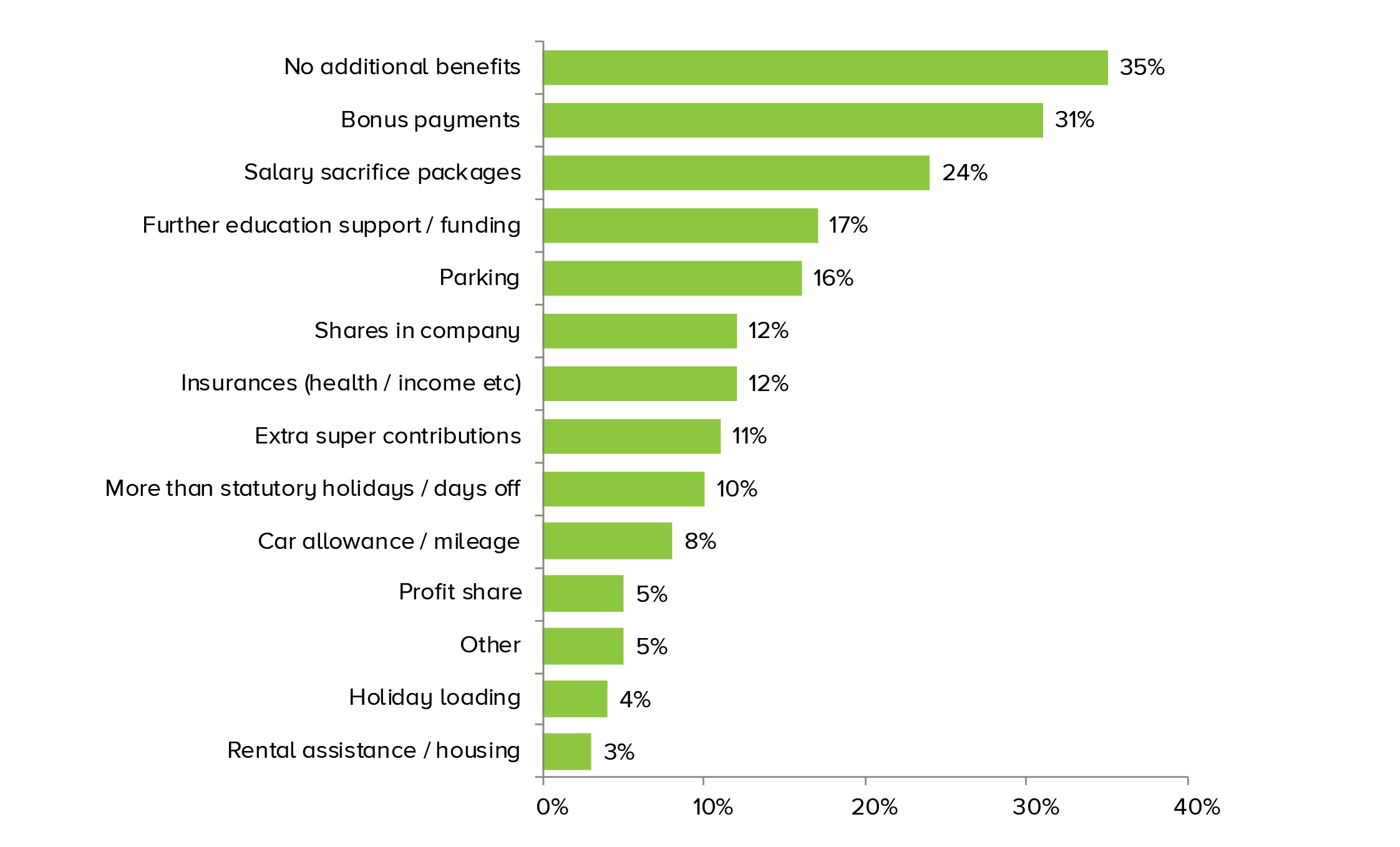 ​
Attraction vs retention
Kinexus' defence industry survey research of Defence-skilled candidates shows that there are different non-monetary priorities at play when comparing job attraction to job retention.
Research shows a flexible work arrangement is the number one factor in terms of attracting a candidate to an organisation, while culture is the next highest priority.
However, in terms of retention, it's reversed, with culture being the number one priority, ahead of flexible work arrangements in second position.
Working from home was the third highest factor when attracting a candidate, while in the retention phase the third most important factor was interesting work.
Kinexus industry survey research shows as a whole, bonuses and salary sacrificing are the most common additional benefits received by Defence-skilled candidates in their current role, coming in at 31% and 24% respectively.
Shares in company, insurances and extra super contributions are also common benefits.
In this graph we can see the top four additional benefits received broken down by sector.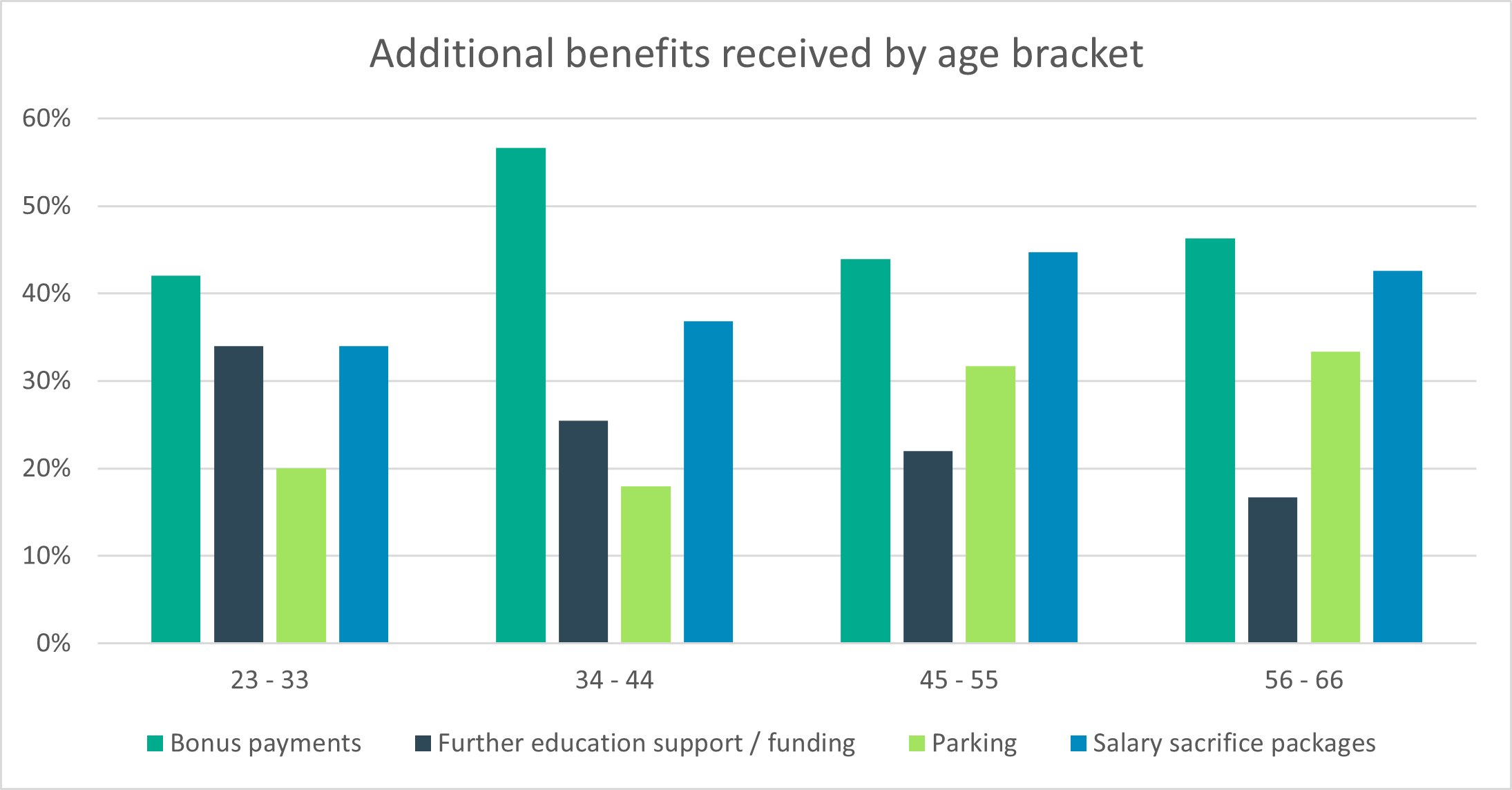 While this graph breaks down four additional benefits by location.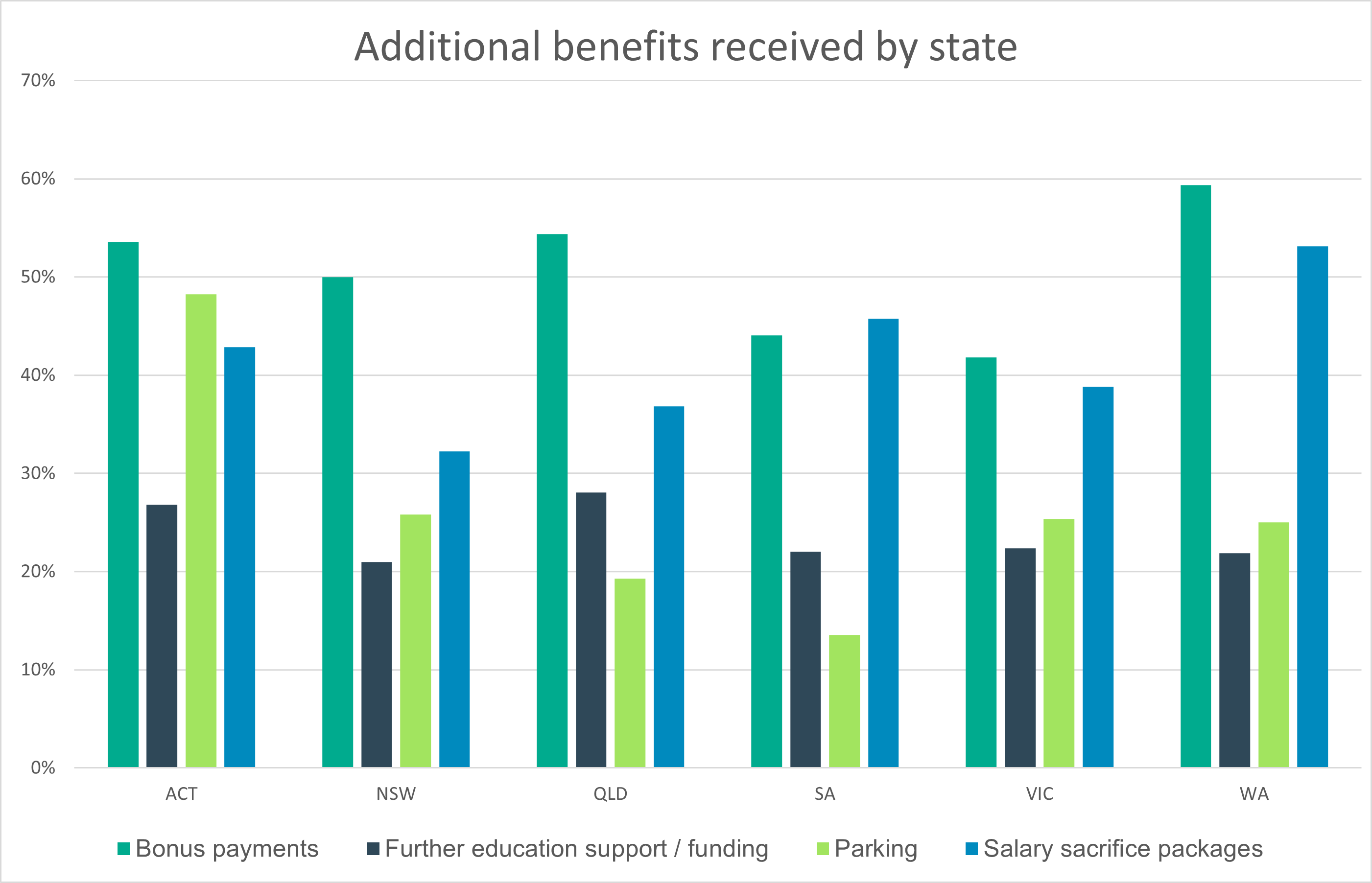 ​
EVP and job satisfaction
The Defence Industry Insights – Ninth Edition suggests strong additional benefits as part of an EVP strategy can be an important factor in ensuring overall employee satisfaction.
For the first time, work life balance appears as the most important factor impacting respondents' job satisfaction. 73% of all respondents listed this in their top five factors, up 10% since 2021.
The top three have remained the same since 2019, with interesting work, work life balance and remuneration as the top three factors impacting job satisfaction. Culture is also becoming increasingly important; 54% of respondents listed this in their top five, a figure that has risen steadily in the last four years.
We asked, "What has the most impact on your job satisfaction?"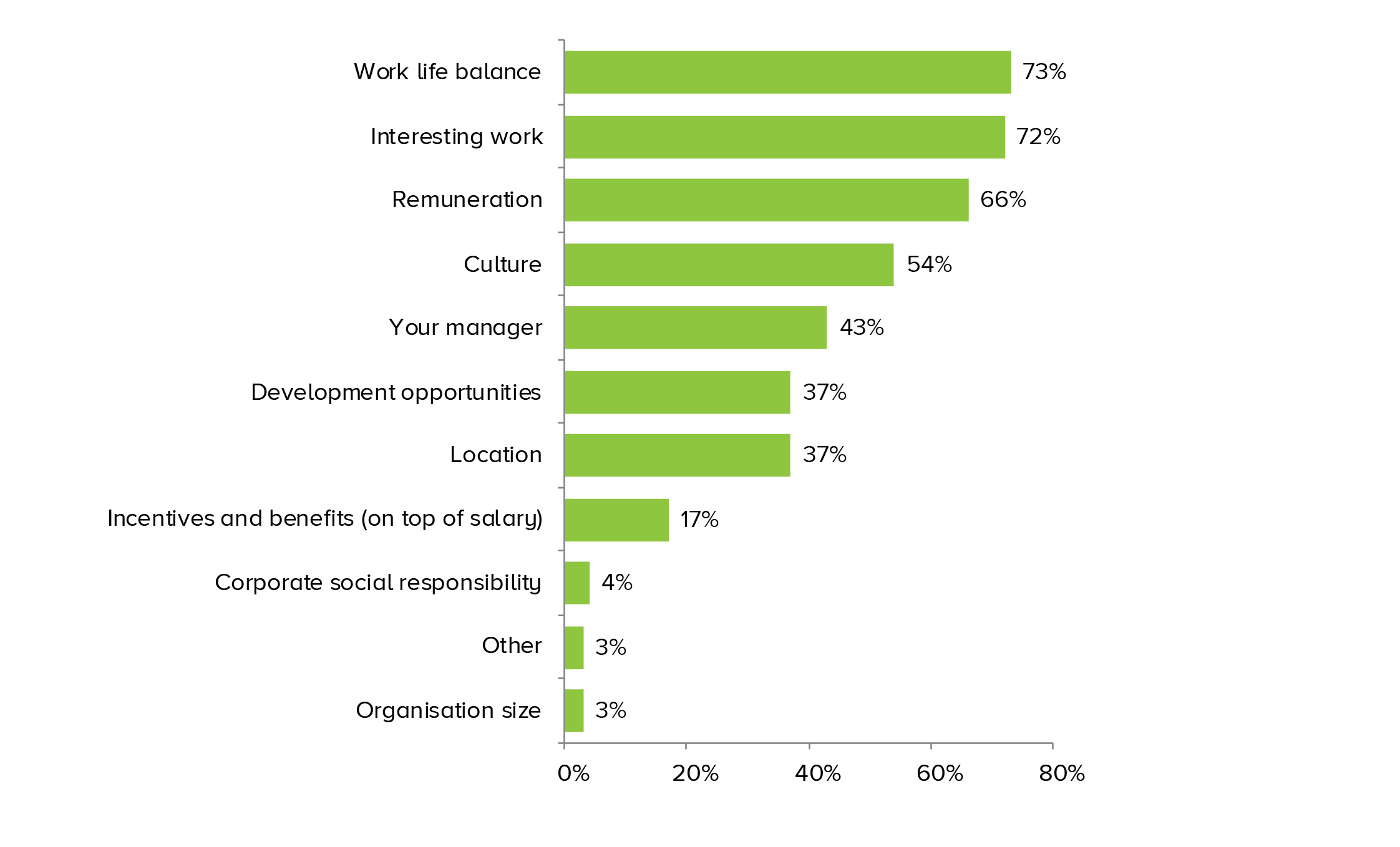 ​
Adjacent industries compete for top talent
Competition for top talent is likely to be further compounded by demand from a number of adjacent industries, which have also received significant federal government funding.
Nearly $225 billion has been allocated for general government sector infrastructure funding over the four years to FY2023-24; this industry will require many similarly skilled workers as defence industry, and therefore will contribute to increased demand.
​
Ensure your organisation can compete
As competition for top quality defence industry talent intensifies, what does your company need to offer in order to stand out?
As a team, Kinexus has more than 30,000 conversations with people working in the defence sector every year, so we know what the premium talent is looking for when they consider a potential role in the industry.
It's important your organisation has the right EVP strategy to attract and retain the best employees possible to help grow your business.
Reach out and speak to our expert consultants to ensure your company is well placed to capitalise on the future business growth opportunities within the Australian defence industry.
You can also read more of our expert insights by downloading the complete Defence Industry Insights - Ninth Edition here.

Photo by Richard Lee on Unsplash
​
** This blog has been updated in 2022 to reflect more recent defence industry trends.