Kinexus' Hiring Intentions and Workforce Reports show that defence industry is set to grow by big numbers. To find suitable workers to fill these positions, with the supply of Defence or defence industry experienced workers running seriously low, we shared that it is time to consider alternative approaches to sourcing skilled talent.
A key strategy is to attract and integrate workers with relevant skills and experience from adjacent industries.
Where are the workers?
The first step is to understand which industries house suitable talent. Our Hiring Intentions and Workforce Report showed the top five industries that employ workers with in-demand defence industry skills. Systems engineers for example, are employed across Industrial Automation, Telecommunications, Transportation and Utilities industries, alongside Defence, depending on state.
Table 1: Top five industries for employment of systems engineers by state. Rank one is the industry that employs the most systems engineers, two is the industry that employs the second most, and so on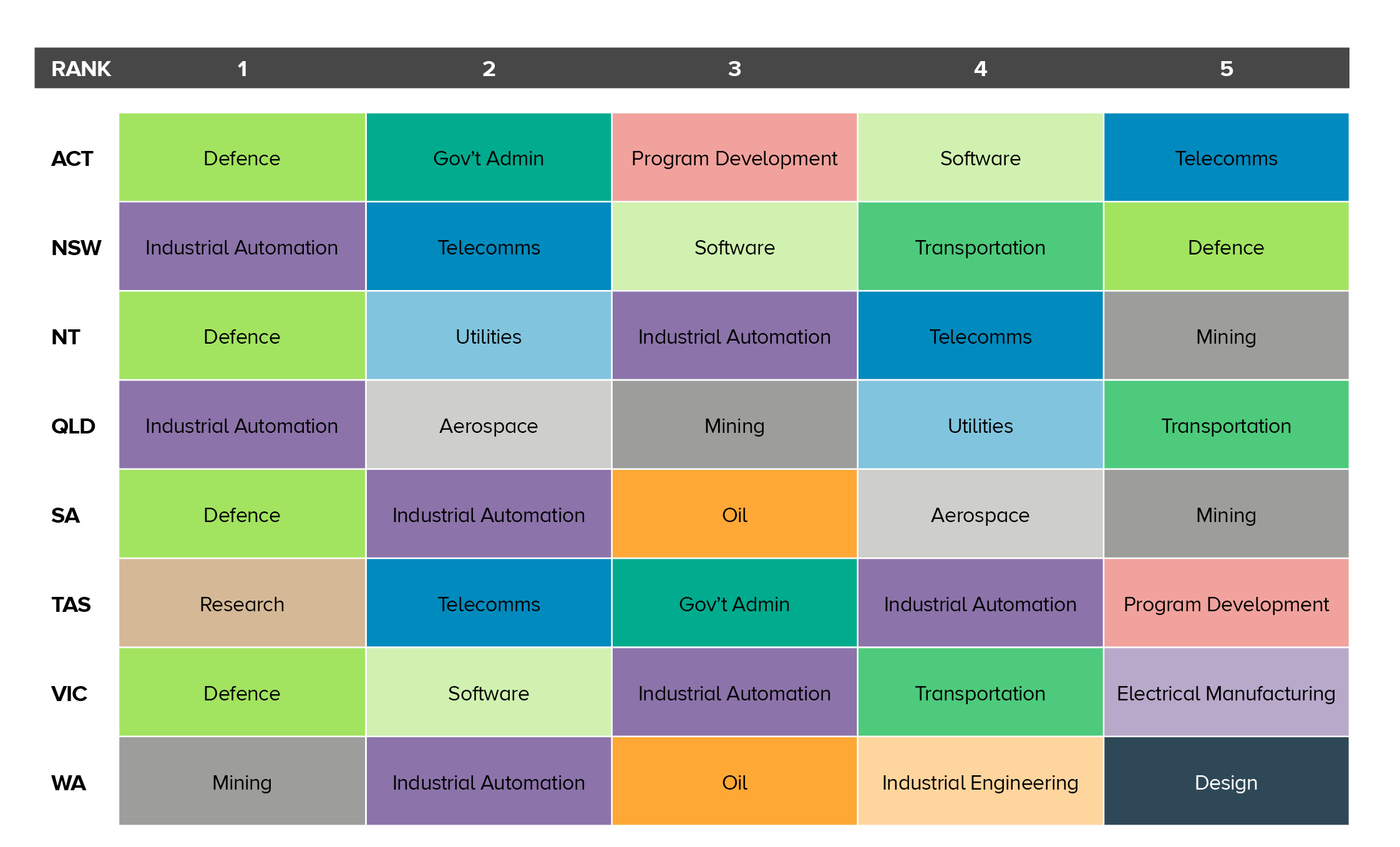 ILS professionals are employed in Mining, Oil, Industrial Engineering and Transportation industries, where software engineers are spread across IT & Services, Software, Government Admin and Telecommunications industries.
Table 2: Top five industries for employment of ILS professionals by state. Rank one is the industry that employs the most systems engineers, two is the industry that employs the second most, and so on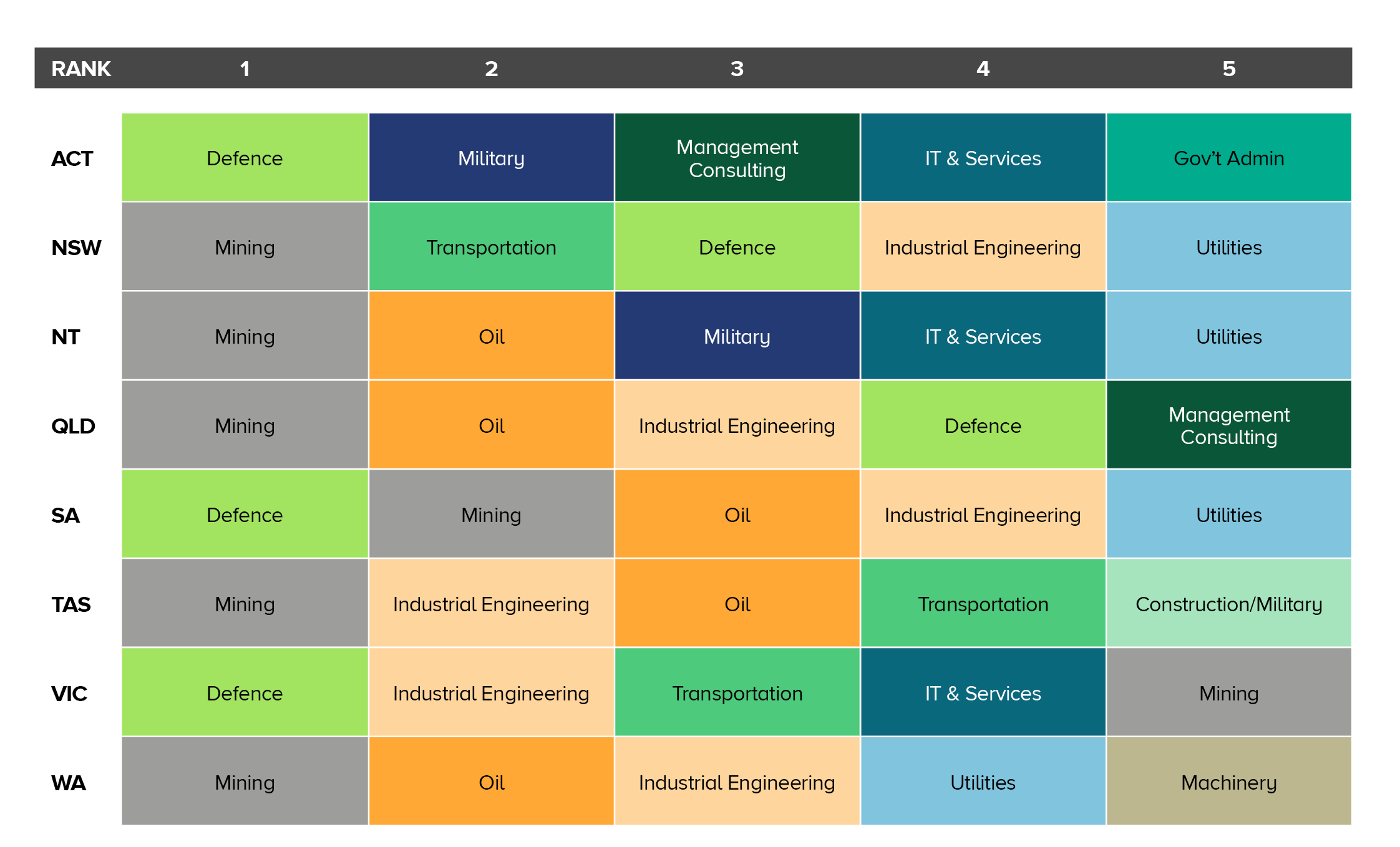 Table 3: Top five industries for employment of software engineers by state. Rank one is the industry that employs the most systems engineers, two is the industry that employs the second most, and so on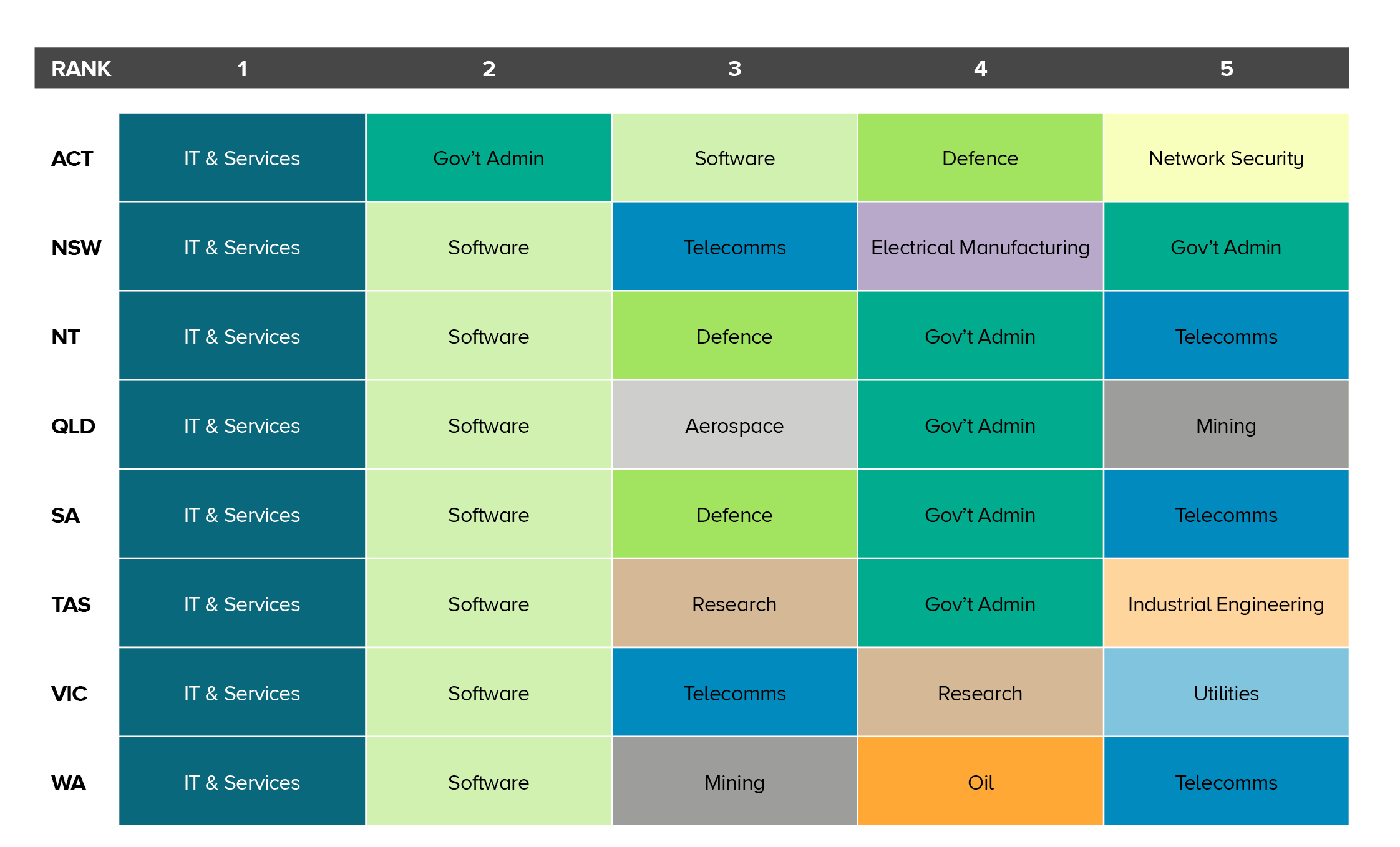 Depending on the skill set, the number of available workers varies in each state. For the full report on each in-demand skill set, download the Kinexus 2021 Hiring Intentions and Workforce Report.
Does integrating workers from adjacent industries really work?
Now we know which industries employ the skilled workers that defence industry needs, the focus turns to integrating them.
Some defence industry organisations have already begun successfully hiring and integrating workers from adjacent industries. We spoke to Kinexus Talent and Delivery Managers who have facilitated these hires to understand what opportunities are available for workers looking to make the change, and how to make these transitions successful.
​
In your experience, are defence industry organisations open to hiring workers from non-defence industry backgrounds?
"Generally, no," says Kinexus Delivery Manager Pat Horwood. "Often when an organisation asks Kinexus to fill a vacancy, they're hoping we can find a candidate that is a 100% perfect match with their requirements.
"Unfortunately, that just isn't possible in the current market. We work extensively with our clients to help them understand what talent is available, and how different backgrounds and experiences can work for their business. I recently worked with a candidate with electronics design experience within the emergency services industry. As you can imagine, safety was absolutely critical, and this meant that much of his experience could be directly translated to the requirements of a defence industry role."
Once a suitable candidate has been identified, it's not just the organisation that needs to be persuaded.
"We help both client and candidate identify applicable experience which can be discussed at interview," says Talent Manager Olimpia Newlove. "We help the candidate realise how much value their skill set can add, and identify specific experience areas that are particularly relevant. This helps the interview flow."
Additionally, attributes like cultural fit, commercial acumen and management experience are not industry specific.
Kylie Doon, Talent Manager at Kinexus, explains. "Whilst a candidate from an adjacent industry might not have worked on the exact Defence platform before, they can still bring an excellent attitude, people skills and cultural fit, as well as experience with similar platforms and tools. For many of our clients it can be easier to teach technical rather than people skills."
Don't you need to have a security clearance to work in defence industry?
"We have had most success working with adjacent industry candidates who are seeking permanent defence industry employment," says Olimpia. "We encourage our clients to begin the clearance process as early as possible, even before a formal offer has been made."
This gains time, and given a candidate's likely four-week notice period, a Baseline clearance is normally approved within a week or two of the proposed start date. Once on site and working, an NV1 or NV2 clearance can be applied for as required. For more information on security clearance timeframes and processes, see our blogson the subject.
What have the impacts been of hiring from adjacent industries?
"Without exception, any candidate I have placed into a defence industry role has absolutely loved it," beams Pat. The cutting-edge technology is certainly a big draw card, as is the variety of interesting work and the stability that defence industry offers. "I have placed people who had 25 years' experience in the automotive industry and had lived through the tough years of downsizing. For them, knowing they are in a federal government backed industry with exciting career possibilities is both comforting and exciting."
For employers, they get access to suitably skilled workers who bring new ideas, energy and enthusiasm to defence industry. Integrating a worker from an adjacent industry might seem complex, but in this tight labour market, the benefits far outweigh any potential challenges. Kylie tells us, "Where a 'perfect fit' is not always available, our clients have found that being willing to hire a candidate with relevant experience from a different industry has allowed them to find a well-rounded individual with a fresh perspective."
About Kinexus
Kinexus supports defence industry nationally, both through permanent and contract recruitment, and through providing workforce insights, market mapping and other HR services. If you are interested in finding work in defence industry, check out our current vacancies. If you're keen to learn more about transitioning into defence industry and the opportunities available, give us a call. Our friendly team are always available to chat.