Kinexus recently released the Defence Industry Insights – Ninth Edition.
It is in this document that we track defence industry salary trends, take a look at workforce demographics and offer insight into workforce sentiment.
Thanks to significant federal investment, as well as the effects of the COVID-19 pandemic, the defence industry is busier now than ever.
For the last seven years, major Defence projects have been happening concurrently. This is different to the years preceding this, where projects would ebb and flow and the workforce would largely transfer from project to project as work became available.
The map below shows the current acquisition and sustainment work that will lead hiring activity across Australian states and territories. It's not an exhaustive list of all Defence projects, which tells us something about how busy the industry is. The defence industry workforce is now spread across all these projects and locations.
As is evidenced below, defence industry work is available in most locations across Australia. The work available is varied and interesting; an important factor in worker job satisfaction. The abundance of work available means that there is no reason for workers to be geo-mobile.
Current projects by state in defence industry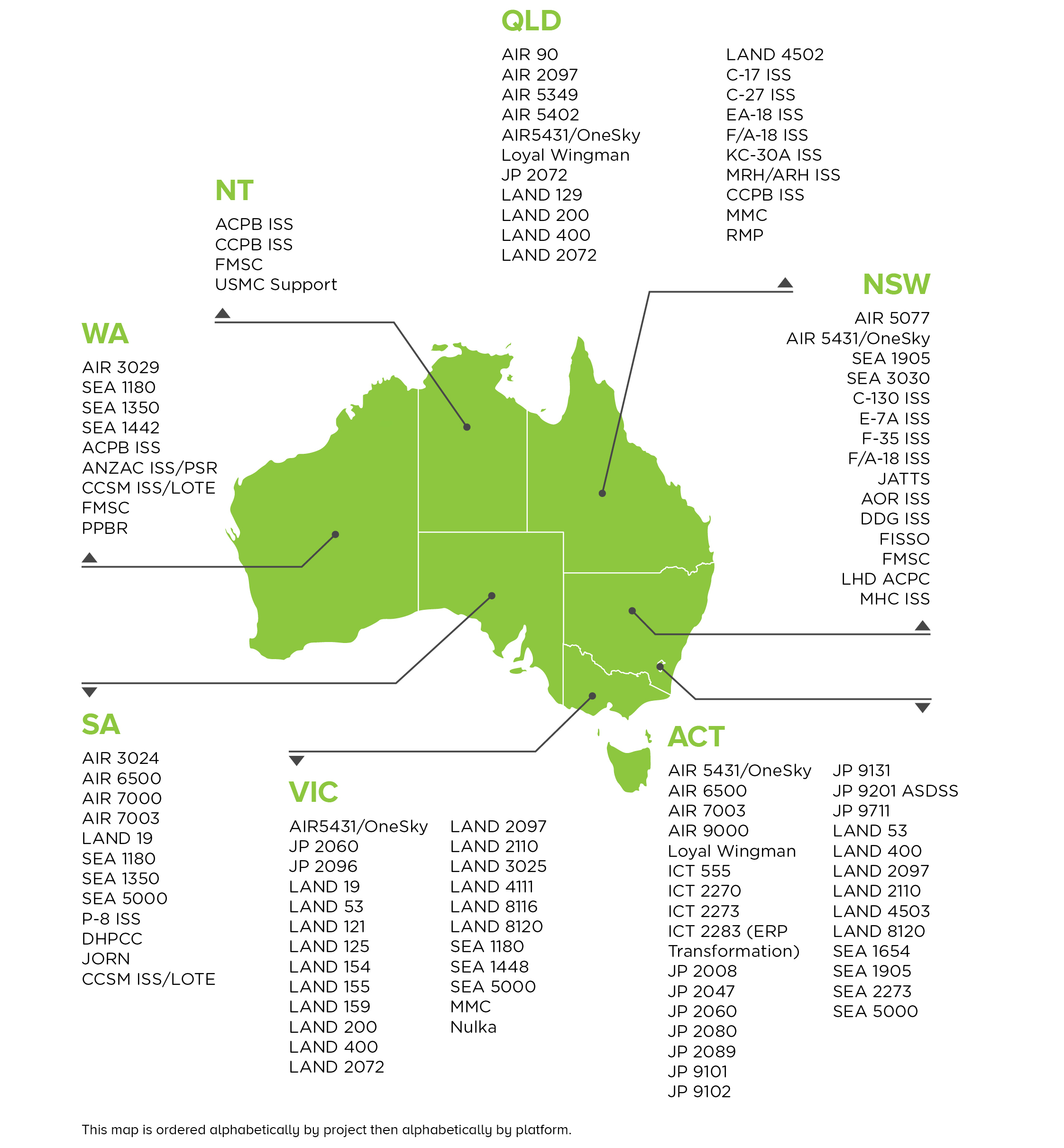 Defence industry is not the only industry that has benefitted from federal investment. Adjacent sectors have as well, including road, rail and energy industries. Engineering and technology projects are busy nationwide, as are captured in the below graph provided by Infrastructure Partnerships Australia.
Current infrastructure activity by state in adjacent industries
Source: https://infrastructurepipeline.org/
The naval sector has hired from adjacent industries, especially in South Australia. During the pandemic and the resulting downturn in the commercial airlines industry, Defence aerospace projects took on some of these workers.
Despite these examples, the preference remains to hire from Defence or defence industry.
The demand for workers with engineering, ICT, cyber and PMO skill sets is high across defence and adjacent industries. Growing a workforce to support defence industry in such a busy national environment is one of the core challenges our sector faces.
​
Want to know more?
Get to grips with current defence industry trends and what defence industry workers really want in our latest edition of Defence Industry Insights – Ninth Edition. It's free to download.
For additional insight and to explore what the data means for your defence industry organisation and how to attract the workers you need, get in contact with our consultants today.