​Kinexus has launched a brand-new insight document: the Contractor Rate Card – Victoria Edition.
In response to fast paced defence industry growth, employers nationwide are considering innovative approaches to source the workers they need. One such approach is growing a contractor capability. And Kinexus research shows over 50% of the defence industry workforce will seriously consider taking a contract role in next 12 months.
Kinexus has created a Contractor Rate Card to provide workers interested in contract roles with more information on the trends, rates and nuances on all things defence industry contracting. And as always, we've made this information available for free.
As our inaugural edition, we have focused on the contract market in Victoria with the aim to expand this insight to other states over time. With over 100 contractors working for Kinexus nationally, Kinexus consultants can provide tailored information state by state. Reach out or shoot us an enquiry.
So what does this brand new document cover? Read on…
Victoria Contract Trends
It's the mark of a successful contractor, that they know what's going on in the industry they work in. Staying up to date on trends is vital. So what is going on in the contacting space in Victoria?
Traditional engineering skill sets are still in highest demand across Victoria, but as the government invests more in cyber and ICT projects, opportunities for contract work in this space will rise.
Above the line opportunities are primarily with consultancies subcontracting to large professional service providers. In the above the line space, contractors make up a vital and sizeable part of the workforce and longer-term contracts are available.
Below the line opportunities are primarily with primes. These roles can be shorter in duration, although many employers in Victoria are now offering six or 12-month contracts to secure the workers they need. Below the line contracts are more likely to be in high-pressure environments. Contract length extensions are very common in both above and below the line roles.
Level 3 opportunities are by far the most readily available. Level 2 and 4 opportunities are available, although less common. Level 1 opportunities are rare and have not been surveyed due to this. More information on the differences between each level is available in the Rate Card.
What can affect a contract pay rate?
Many workers enter the world of contracting chasing the dollars on offer. After all, contracting can pay about 20 – 25% more than a parallel permanent position. But contract pay rates can be complex and are subject to many considerations.
Experience level, both in Defence / defence industry and on specific platforms, can heavily impact pay rate, as well as the security clearance level held. In Victoria, most employers expect their contractors to have an NV1 clearance, so holding a clearance above or below this might mean that the pay rate goes up or down accordingly (depending on the employer's needs).
The length of the contract the employer is offering will also affect rate; contractors are expected to be flexible when longer contracts are on offer.
Whether the work on offer is above or below the line will influence pay rates, as can any pre-arranged panel rates in place and / or the employer budget.
Finally, location has a big impact. This is due to differing costs of living, as well as availability of skilled workers. Our handy image below explains all these considerations.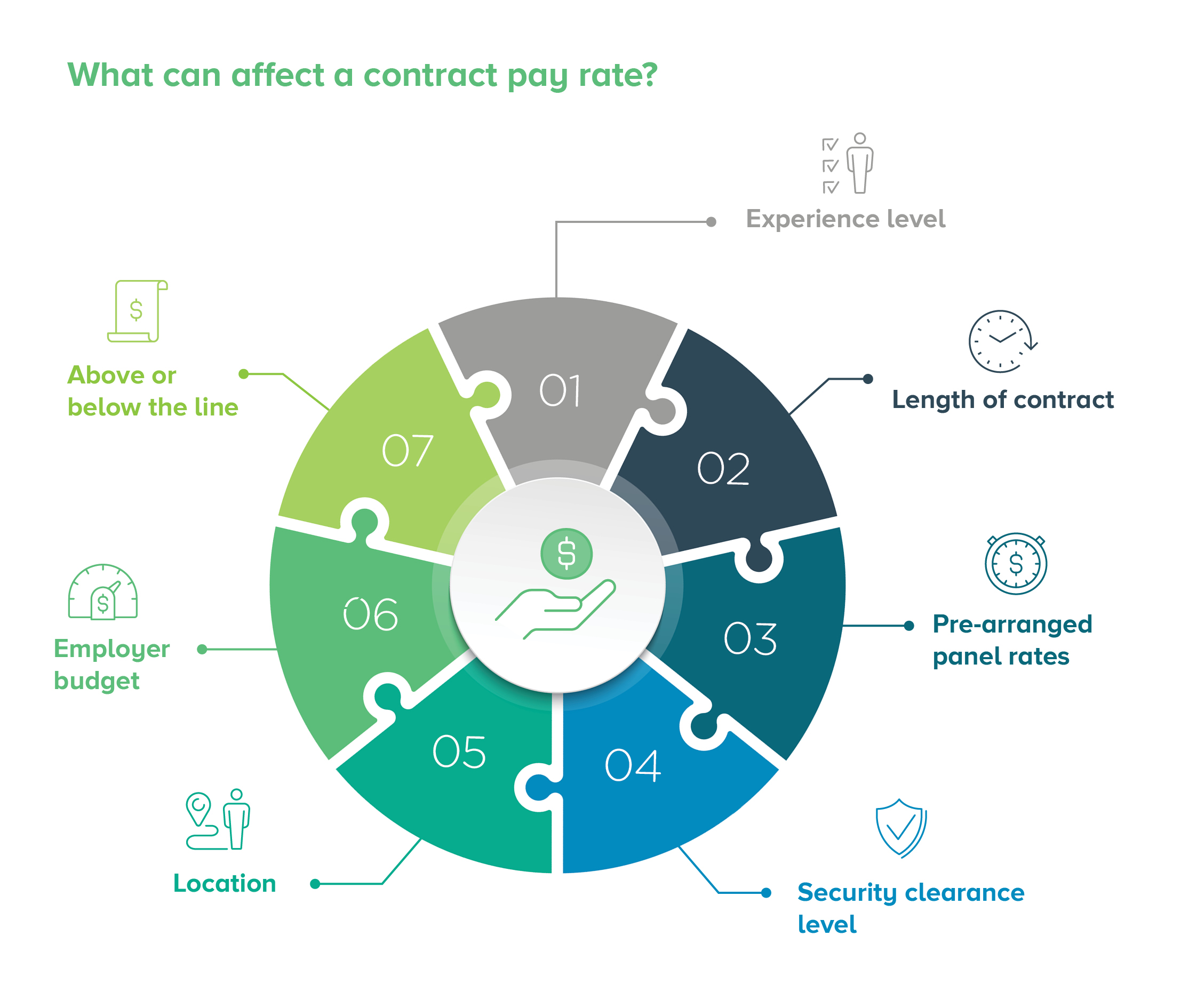 The name of the game in contracting is to be flexible – and consider all factors when negotiating a pay rate.
So there's a taster of the information included in our brand new Contractor Rate Card. Get your hands on the document for free here.