As a veteran transitioning from a career in the Australian Defence Force to commercial industry, it can be challenging to translate your Defence experience in a way that potential employers can understand.
With the recent release of Large Language Model (LLM) tools such as ChatGPT, we take a look at how you can use these AI tools to help you write your resume, and how they can help you to better communicate how your experience translates into commercial industries.
​
But before we get into all of that, let's start by briefly exploring what a tool like ChatGPT does.
The most commonly used and best-known LLM tool is ChatGPT. This is an AI chatbot that uses NLP (Natural Language Processing) and machine learning to generate human-like responses to queries and have conversations.
You can ask the chatbot questions or make requests, then provide prompts when you want to refine the response. The clearer and more specific you are in your questions, the more likely you'll get really useful content. To get the best results:
Use simple and concise language,

Never ever input private information (we'll touch more on that later) and;

Always review the output for accuracy and clarity.

​
So how can veterans leverage ChatGPT to write clear and concise resumes?
1) Improve clarity and remove acronyms
One of the biggest challenges that veterans face when translating their experience to a civilian audience is the use of jargon and acronyms that are unique to the Defence Force. These terms can be confusing to people who are not familiar with them and can make it difficult for employers to understand the value of a veteran's experience.
ChatGPT can help overcome this by translating Defence jargon and acronyms into language more commonly used in commercial industries.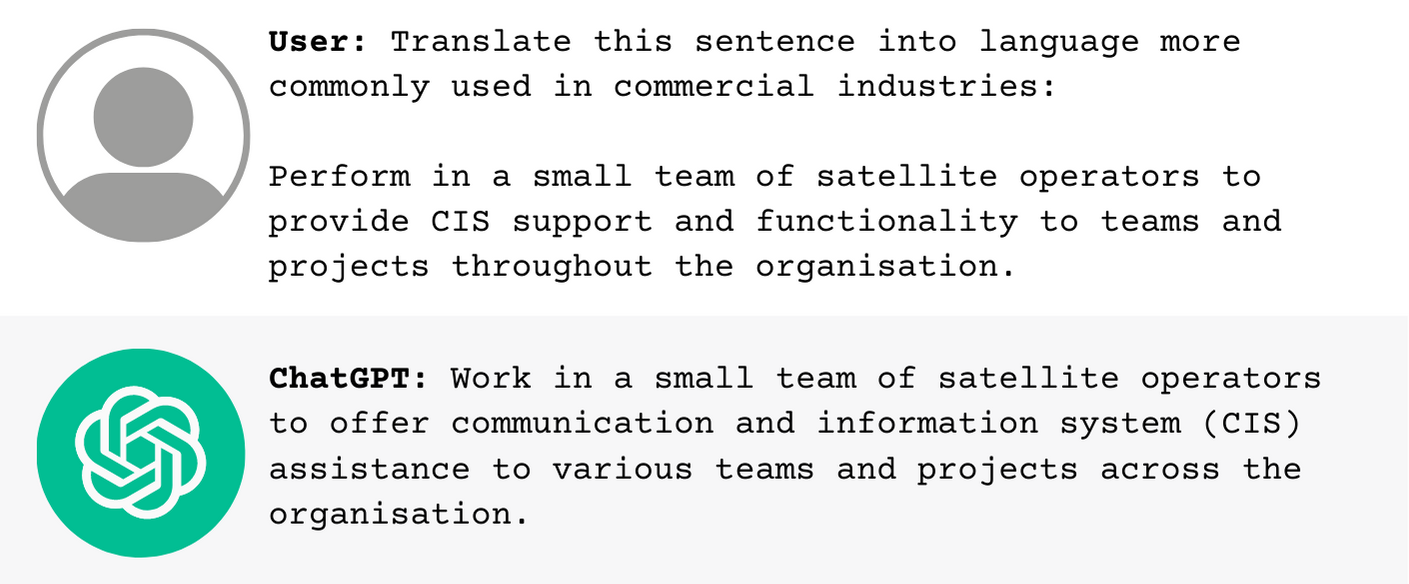 2) Increase relevance to industry
Another challenge that veterans face when transitioning to commercial industry is the perception that their military experience is not relevant to the civilian workforce.
ChatGPT can help by highlighting and translating the transferable skills that veterans have developed during their service.
Example: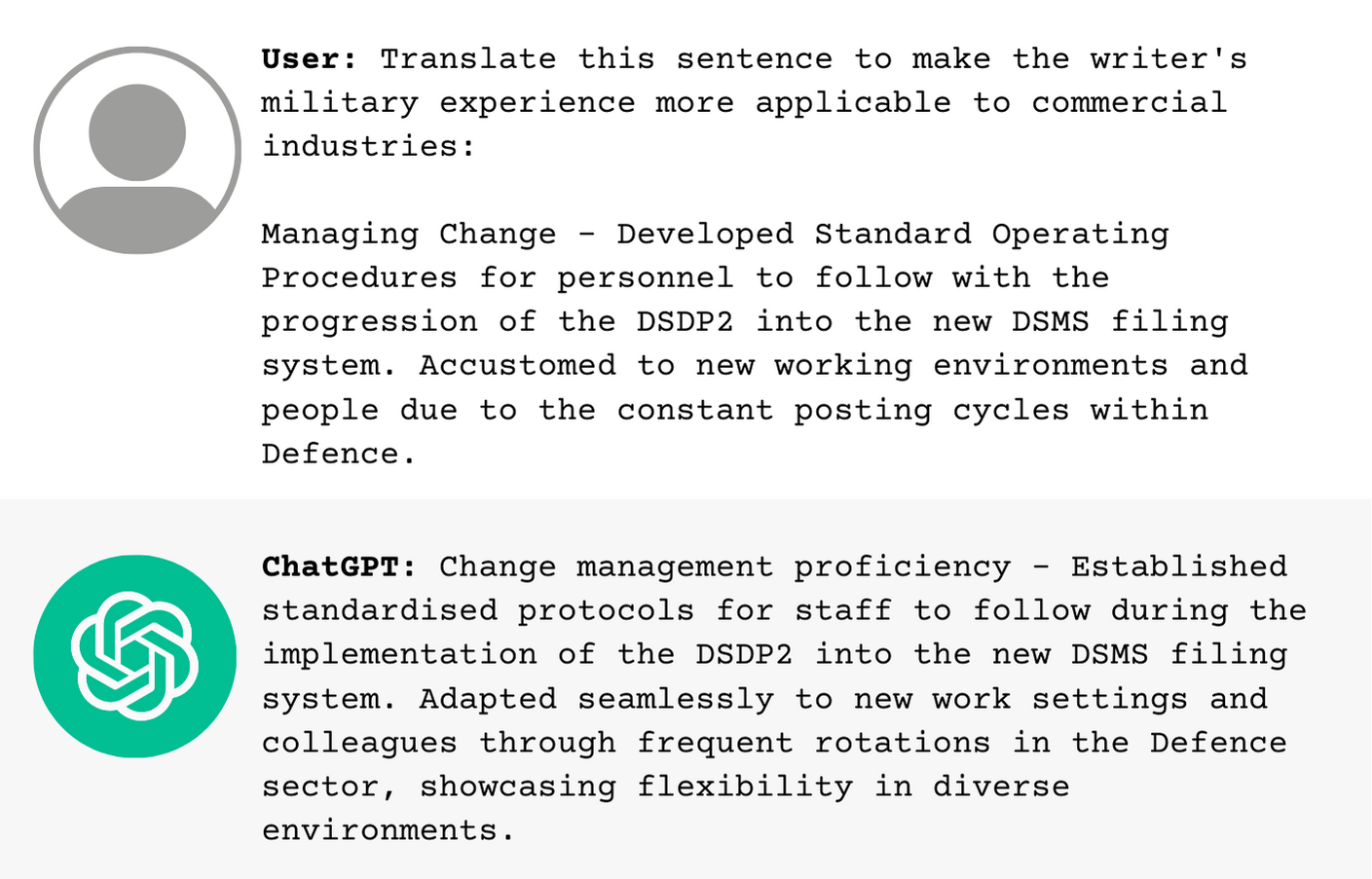 3) Gain personalised feedback
One of the unique benefits of using ChatGPT is its
ability to provide personalised feedback on the content of your resume.
You can prompt it to provide suggestions and corrections on the language and formatting. This feedback can be particularly useful for veterans who are not familiar with the conventions of resume writing in commercial industries, or who may be unsure how to best present their experience in a way that is accessible to potential employers.
Example: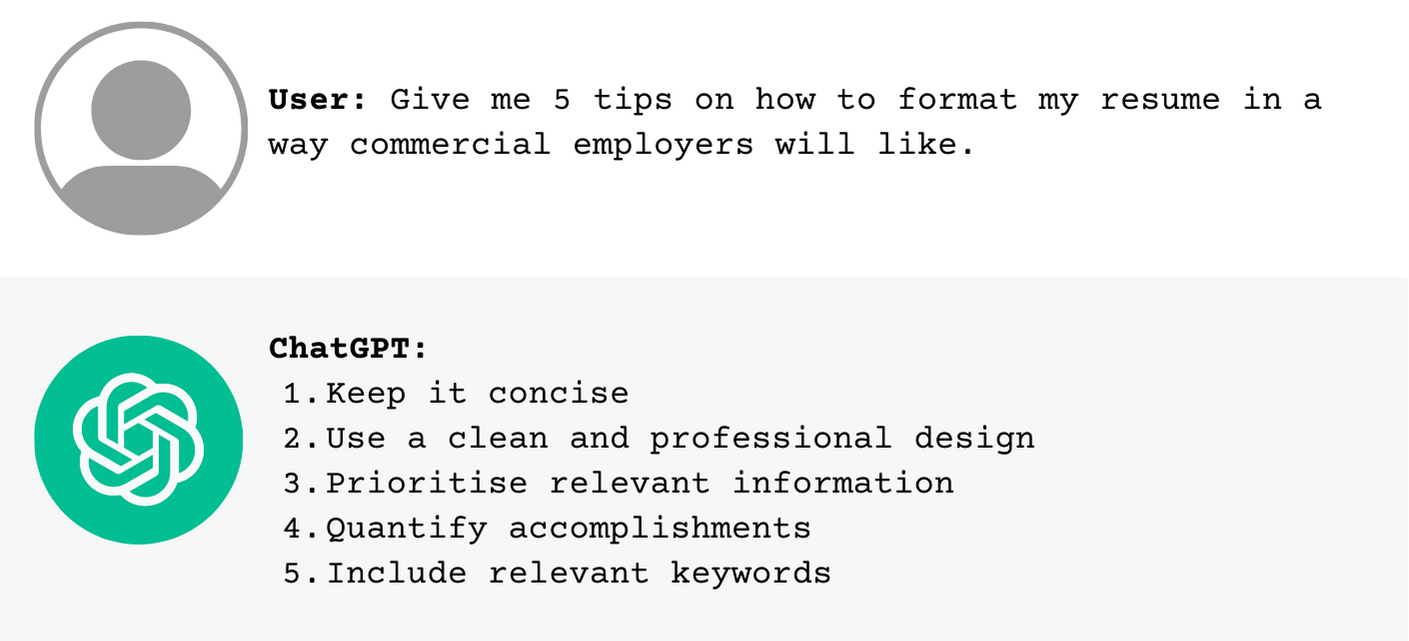 ​
Sounds too good to be true! Is it?
ChatGPT is a brilliant tool, but it's important to remember that it is just one tool in your wheelhouse and cannot replace more conventional forms of resume writing. Here are some essential considerations to bear in mind while using it.
1) Overreliance on technology
While ChatGPT can be a valuable tool, it's important not to be over-reliant on the technology. ChatGPT can provide useful suggestions and feedback, but it cannot replace the insights and expertise of a human reviewer.
Veterans should use any AI tool as a complementary resource to highlight skills and experience, rather than relying on it as a sole source of guidance.
2) Misinterpretation of Defence experience
Another potential risk of using ChatGPT is the risk of misinterpretation. ChatGPT may not fully understand the nuances and complexities of your Defence experience. It is important for veterans to carefully review and edit their resumes after using ChatGPT to ensure that their experience is accurately reflected and presented in a way that aligns with their career goals.
3) Confidentiality
Even ChatGPT itself advises users to exercise caution when sharing sensitive information online. If you already have a resume written that you're asking ChatGPT to amend, bear in mind that this may include your address, details of ADF missions or job titles that you might not want available online. We would recommend omitting this kind of personal information.
All LLM technology uses the information we input to become 'smarter' and, while your chats are private, you can't be completely sure how the data will be used. This means you need to make a personal call on how comfortable you are with using these tools. And of course, if you're using it for work, check your employer's policy before you do anything.
ChatGPT can be a really effective tool for veterans looking to translate their Defence experience for a civilian audience.
As long as some general caution is observed, ChatGPT can help improve clarity and conciseness, remove jargon and create more tangible links between military and civilian experience. All of this helps veterans put forward a stronger case for their suitability for industry roles.
To access some more conventional resume writing tools, take a look at Kinexus' resources, all available online for free.
Your comprehensive guide to writing a Resume
How to Translate Your ADF Experience into Civvy Street
What Recruiters Look for in a Defence Industry Resume
Photo by Google DeepMind on Unsplash
​