​Each year we publish a new edition of our Defence Industry Insights. This year, our eighth edition is packed full of analysis on defence industry salary changes and workforce demographics. Here's a taster of the kind of information available in the document.
​
Industry Growth
​
In the next 12 months employment in defence industry is expected to grow by around 10%, or approximately 3,800 positions, as detailed in Kinexus' 2021 Hiring Intentions and Workforce Report.
The bulk of the predicted hiring will take place in Canberra (28%) and Adelaide (26%), and is being driven by material acquisition and ICT projects.
The steady growth over a number of years has resulted in industry confidence being at an all-time high. A whopping 88% of survey respondents said they were somewhat or very confident in the industry providing them with a long-term career. This shows that now more than ever defence industry is a great industry to work in.
Chart 1 shows the opinion of the respondents when asked 'What is your current confidence in defence industry being able to provide you with a long-term career?'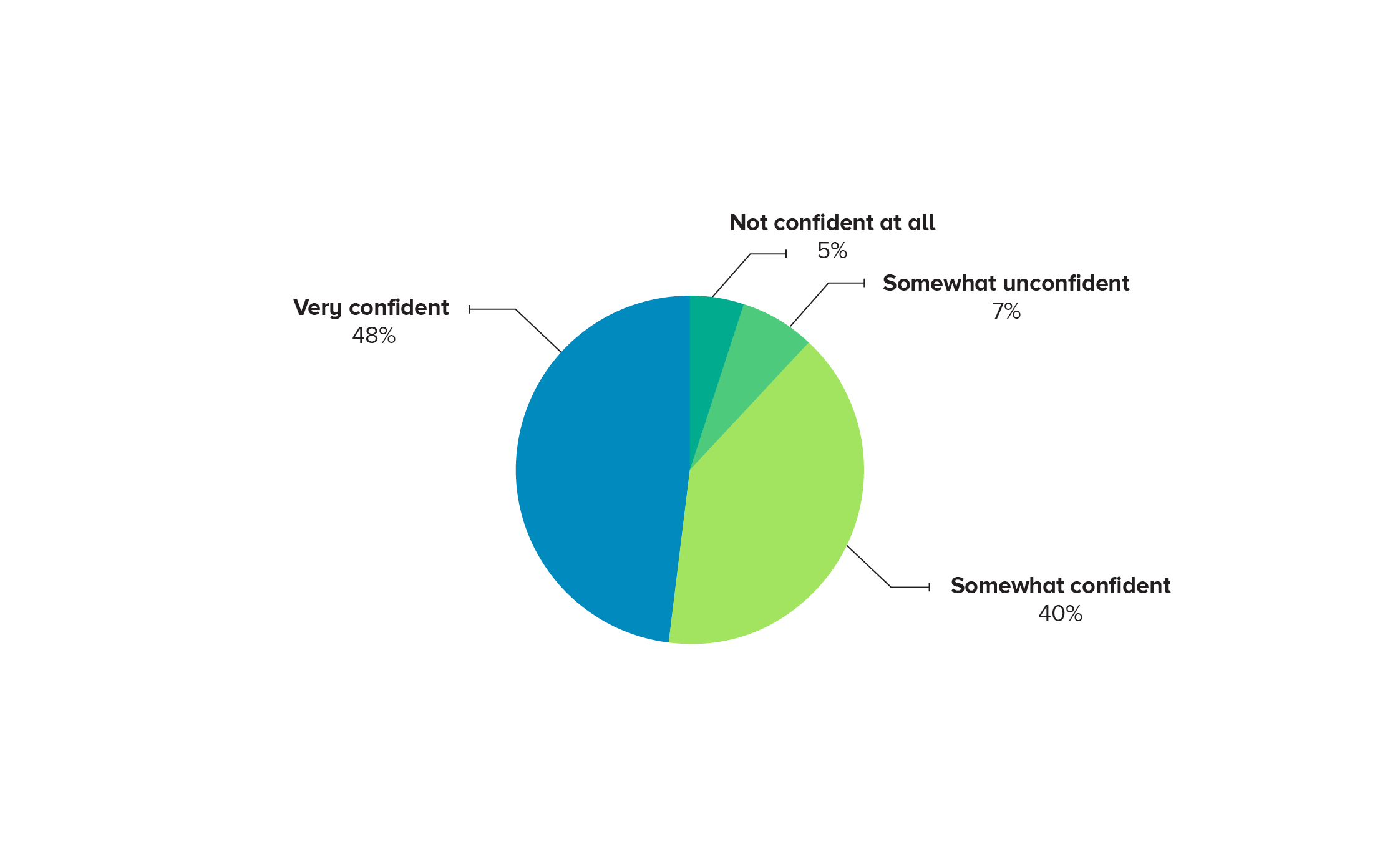 ​
Scarcity Of Workers
​
Each sector in defence industry – aerospace, land, naval and ICT – is faced with the challenge of a worker shortage. Skills all across the spectrum are in demand, including systems, safety, mechanical, electrical and platform engineers, software and cyber, PMO, commercial and sales.
In response to the worker shortage, defence industry organisations have begun paying their workers more in order to attract and retain the best talent, which has led to a national increase in salaries of 1.3% in the past 12 months. The increase varies from state to state. The lowest increase is in SA at 0.5%, the highest is in VIC at 1.9%.
Workers with Defence or defence industry experience are in highest demand, but some employers have begun to integrate workers with adjacent industry experience into their workforces. We have seen workers with experience in automotive, commercial aerospace and maritime, infrastructure and rail make successful transitions into defence industry. For more insight into this, check out our blog on adjacent industry transitions.
Chart 2 shows the skill sets in particularly high demand across most defence industry locations.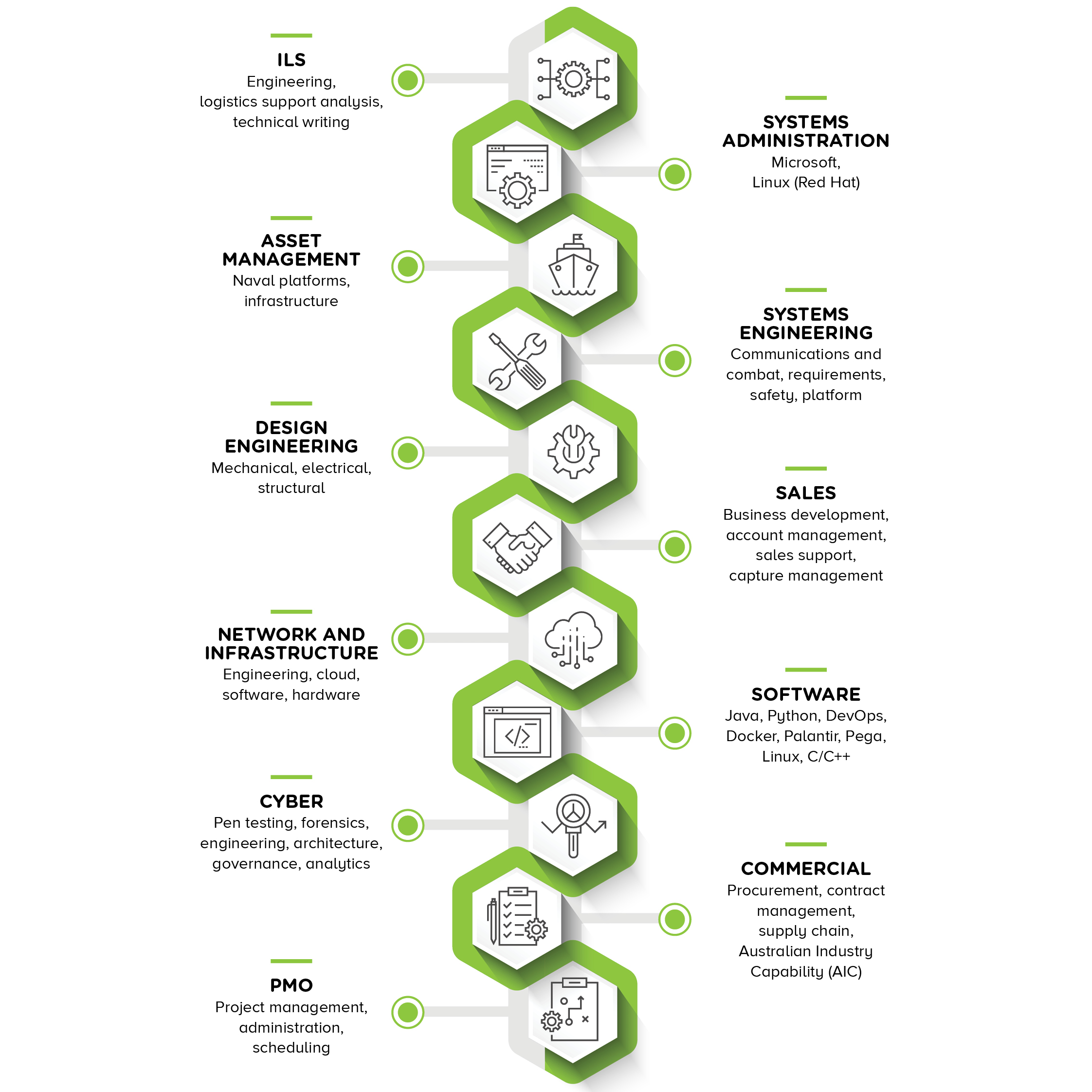 ​
Work Opportunities And Benefits
​
Our survey showed that 75% of workers are in permanent roles, and 18% were in contract roles. Workers with adjacent industry experience are normally suited to permanent work, at least initially, while they learn the nuances of defence industry and acquire security clearances. For contracting opportunities, security clearances are normally required straight away.
Due to the scarcity of workers across all sectors and locations, defence industry employers have been looking beyond salaries to attract and retain the best talent available. You can compare where your salary sits with industry averages in the full insights document, but it's also worth considering what other benefits are available.
Defence industry workers receive a range of benefits from their employers outside of annual salary and statutory superannuation. This includes major benefits like bonus payments, salary sacrifice packages and funding for further education support, all the way down to mobile phones and laptops, flexible work arrangements and travel expenses.
Chart 3 shows the current employment status of respondents.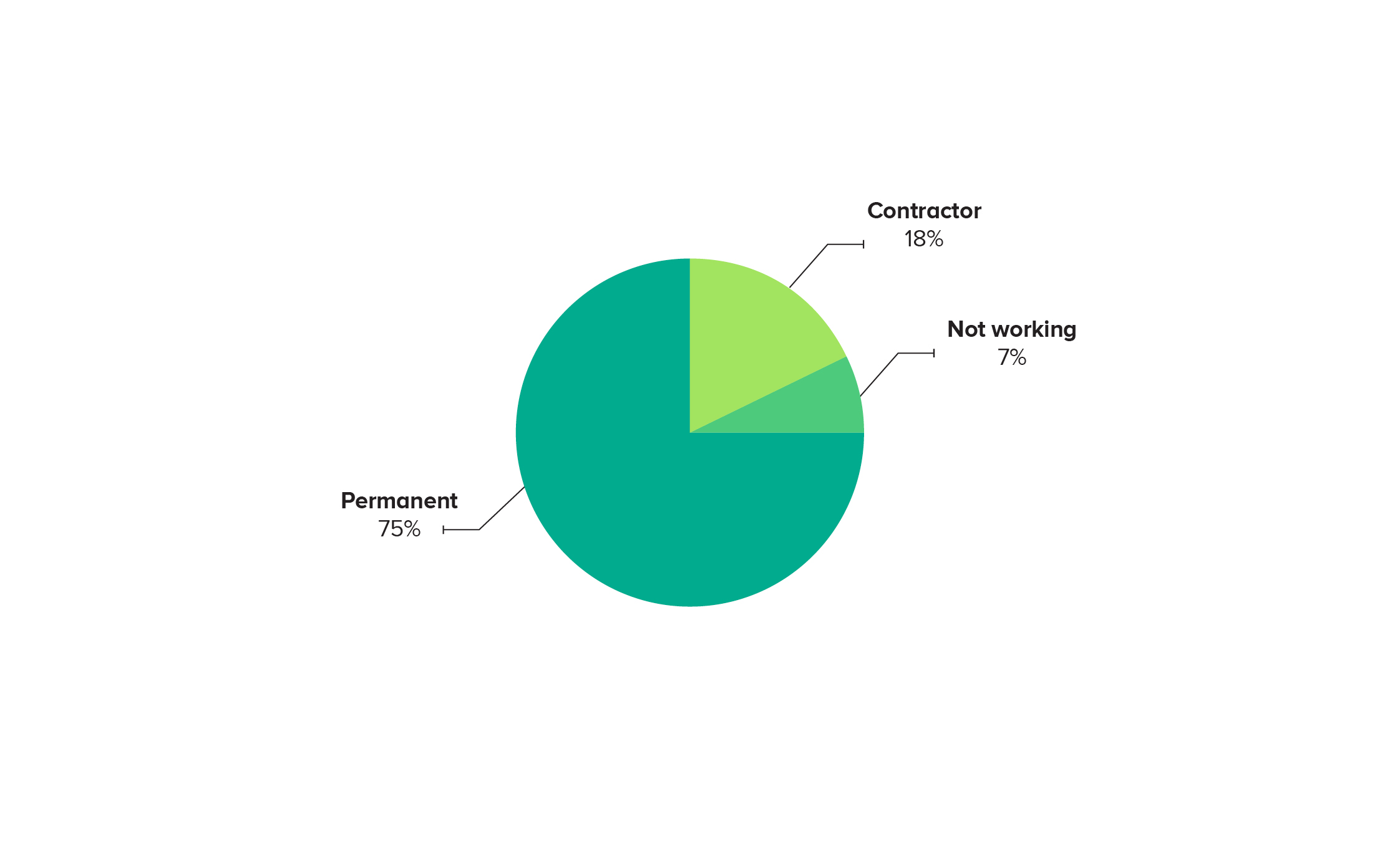 ​
Want to know more?
​
Download the Defence Industry Insights - Eighth Edition for more data and insights.
If you're looking for work in defence industry, you can check out our current vacancies here. Alternatively, our consultants are always keen to chat if you'd like to get in touch directly.