It's no secret that the Australian defence sector is facing a skills shortage. While this presents a challenge to employers, it's a great time to be in the industry as a worker. For people with defence-relevant skills and experience, there is an opportunity to find interesting work in every state and metro capital in the country.
To define the top skills that are most sought after by the Australian defence sector, we're taking a deep dive into the latest edition of Kinexus' defence sector job vacancy index. The job index shows the significant growth the industry is undergoing by collating job vacancies advertised by Australian defence companies and provides a snapshot of employers' demand for workers over time.
When we first released the latest data from the index, we covered the types of employment being advertised (permanent or contract), as well as a breakdown by state. This week, we take a look at the skills that are in the highest demand across industry by providing a list of the top skills appearing in defence sector job ads.
Top Ten Hard Skills

First up, let's look at the "hard" skills most commonly advertised by defence companies.
Hard skills are defined as skills that are teachable and measurable, such as writing, reading, mathematics, and so on. Essentially, these are the skills you need to have to be able to do the actual job.
Hard skills vary by industry, of course, and become more specific depending on the role. According to our index, there are ten particular skills that appear in the majority of vacancies advertised by the Australian defence sector, suggesting strong demand across the industry.
The top ten hard skills needed by the Australian defence sector are, at a glance:
Project Management
Systems Engineering
Scheduling
Software Engineering
Budgeting
Other Engineering Activities
Configuration Management
Technical Support
Workforce Planning
Software Development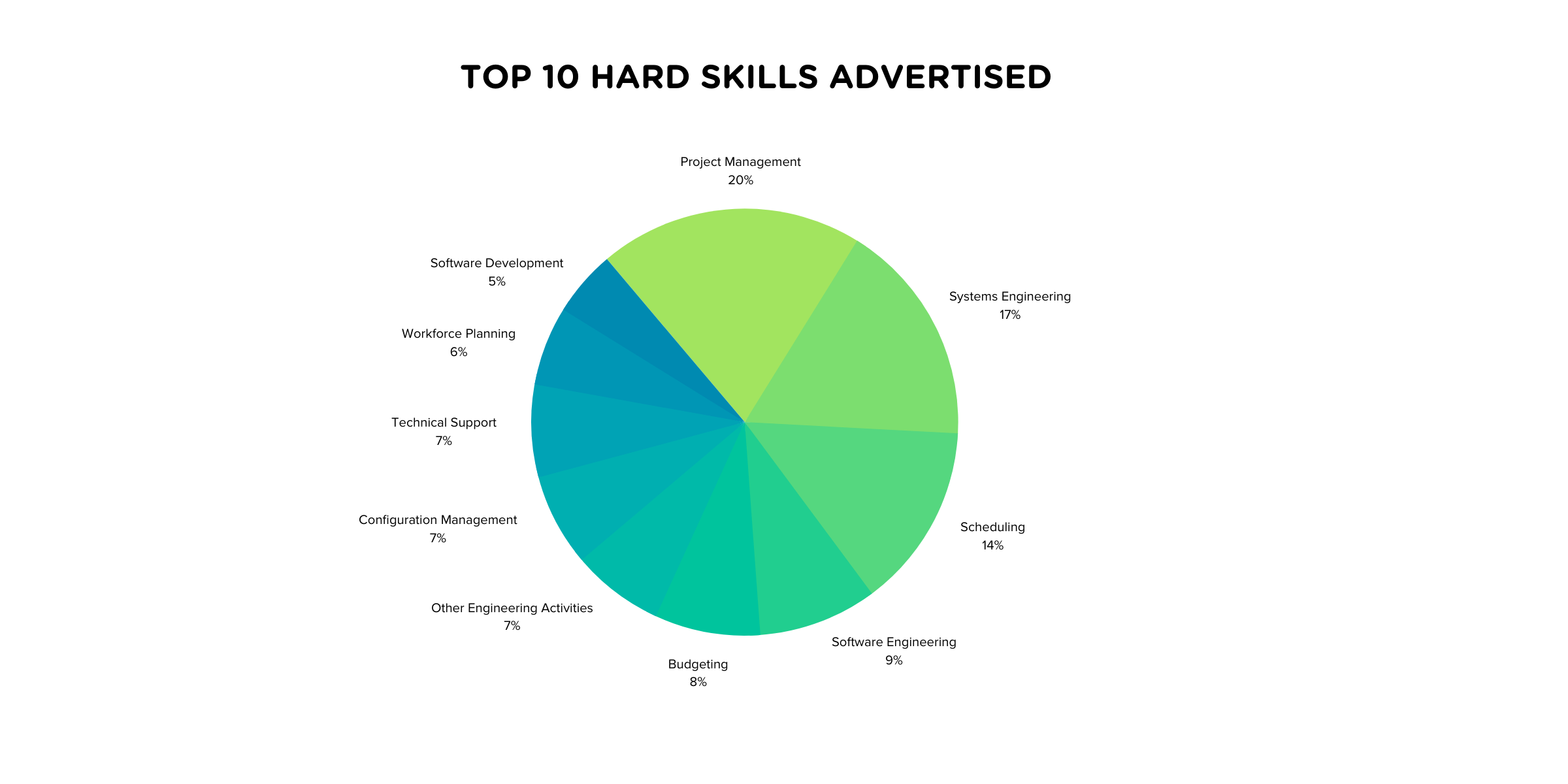 Project management is the most advertised skill set, making up 20% of all defence sector job ads. As the project environment gets busier, it's safe to say this skill set will continue be in high demand for the foreseeable future. Other project management office skills such as scheduling (14%), budgeting (8%) and workforce planning (6%) aren't far behind for the same reason.
Systems engineering is number two on the list, representing 17% of job ads focused on these top 10 skills. This interdisciplinary skill is vital throughout all stages of the project lifecycle and the collaborative, technologically advanced and integrated nature of defence projects means it will stay that way. The systems engineering process of configuration management (7%) is also a clear top skill for its value in maintaining and establishing the functional and operational performance of all aspects of old and new projects.
Technical and engineering competencies are required for the majority of defence projects, which is why skills like software engineering (9%), other engineering activities (7%), technical support (7%) and software development (5%) are so sought after by employers.
In Kinexus' Defence Industry Insights – Sixth Edition, we collate intel from thousands of conversations with defence sector employers about their hiring intentions and project updates. To find out the defence skills our community is telling us they are on the hunt for, have a read of our blog piece on defence sector skills in demand.
Top Ten Soft Skills
"Soft" skills are usually viewed as personal attributes that help you interact with other people more effectively and harmoniously. While hard skills are essential to being able to perform in the role, soft skills are more of an indicator of what kind of person you would be to work with, and how you would fit in with the rest of the organisation and culture.
There are seven types of soft skills commonly recognised throughout most workplaces. These are:
Leadership skills
Teamwork
Communication skills
Problem-solving skills
Work ethic
Flexibility / adaptability
Interpersonal skills
When you look at the Australian defence industry, almost every employer recognises the need for workers with strong soft skills. Of the defence sector jobs advertised across January – July this year, the top ten defence sector-specific soft skills called for were:
Customer Service
Negotiation Skills
Process Improvement
Business Planning
Change Management
Lifecycle Management
Customer Contact
Contract Management
Performance Management
Supply Chain Knowledge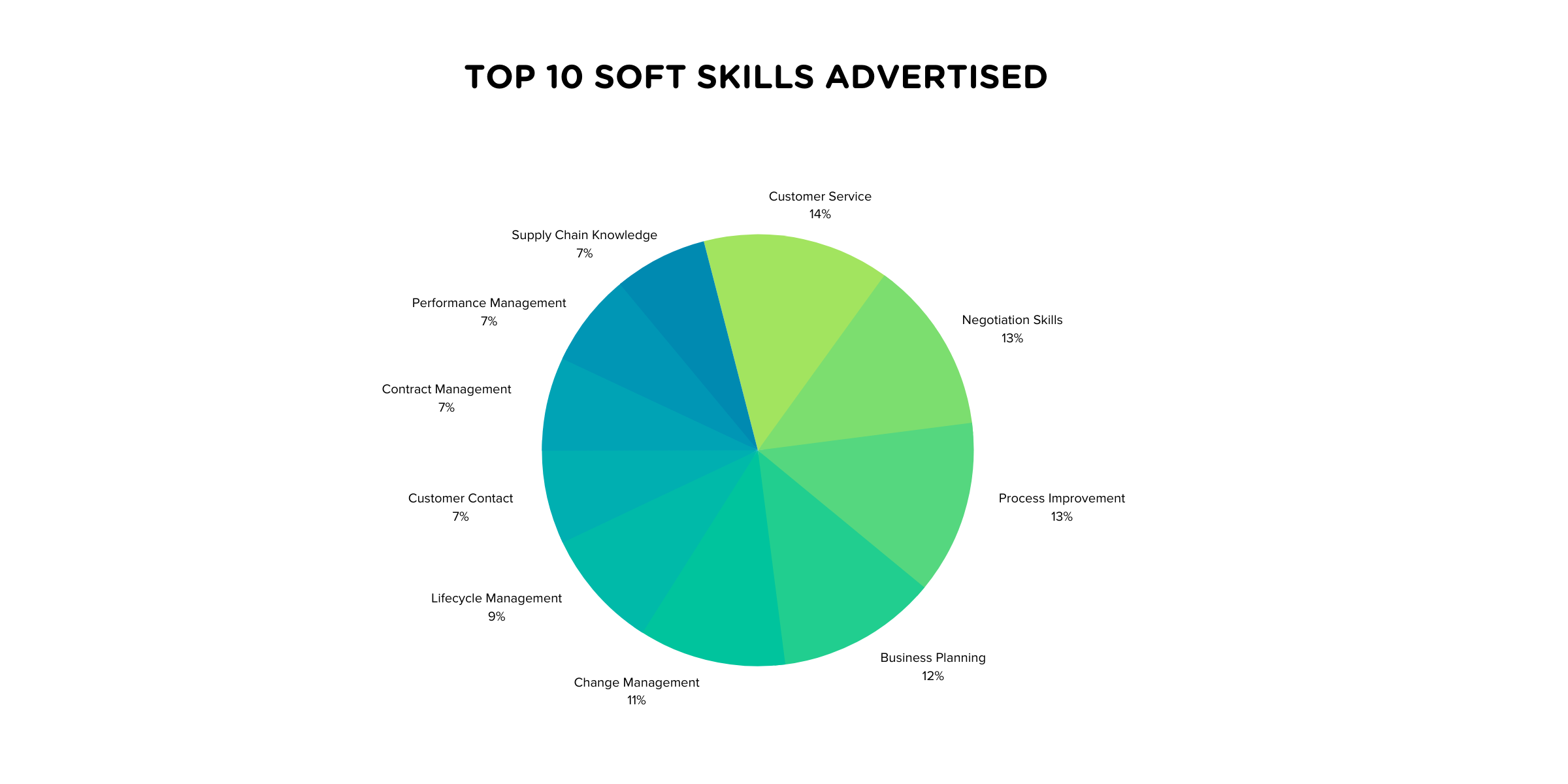 It's interesting to see that customer service was the number one soft skill advertised by Australian defence companies, coming in at 13%. This skill demand from organisations, along with the demand for skills such as negotiation (13%), customer contact (7%) and contract management (7%), brings to the fore that collaboration and serving and working with the end customer is vital to project outcomes.
In this ever-changing industry environment of simultaneous projects, bid management and talent shortages, skills that help a business manage uncertain workforces, adapt to change and evolve to meet the demands of the industry are going to be sought after. It is, for this reason, that process improvement (13%), business planning (12%), change management (11%) and performance management (7%) are on the list of top soft skills advertised for by defence sector employers.
Additionally, defence sector is uniquely project focused across the board, making it that much more important that individuals have lifecycle management (9%) skills and knowledge of the supply chain (7%).
Want to learn more about the defence sector workforce?
Kinexus' Defence Industry Insights - Sixth Edition explores workforce trends, salary trends, and more. Download your free copy of the Insights today, or sign up to our blog.

NOTE: The Kinexus Defence Sector Job Vacancy Index has been compiled in partnership with HRO2 Research Pty Ltd. The data used for the Kinexus Defence Jobs Vacancies Index is drawn from a thorough scan of Australia's largest defence sector employer's career portals and job boards. The data for the Index is subjected to a rigorous deduplication process both within sites and across different sources. The data is expressed as an index by reference to a baseline of 100% that was set for the period of S2 - 2015 (Semester 2, 2015). Any movement in subsequent periods from the data collected during the baseline period is presented as a percentage change from this baseline value. S1 refers to the period of January to June and S2 refers to the period of July to December.
Photo by Jacqueline Godany on Unsplash